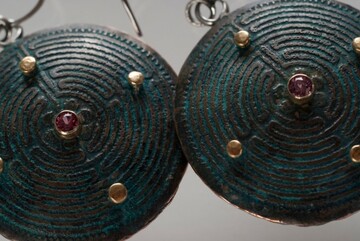 Chartres Labyrinth earrings, photo by Marcy Merrill
It seems somehow appropriate to start this post with an image of recently completed earrings. They represent the sum of my explorations into etching and using Japanese patina on shibuichi alloy-and the image of the Labyrinth, which is etched on the metal surface, is highly symbolic of my own creative quest.
Long used in spiritual rituals world wide, labyrinths can be walked or danced, representing an initiation-a transformative, mysterious and universal awakening into a "universe larger than our inspirations, richer and more complex than all our dreams-it is the call of the larger cycle, the dance of the larger life."-Helen Curry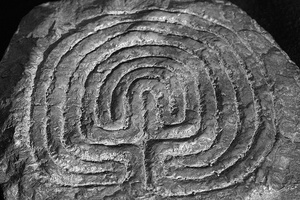 The long anticipated journey to Ireland and England begins this week! I am beyond excited at the thought of exploring Dublin, taking a week long workshop in Celtic Chasing with Brian Clarke, and meeting my sea glass friend Jane in Newcastle, England. The timing for hunting sea glass couldn't be better, as it coincides with a Super full moon on August 9th (this wasn't intentionally planned by me-or was it?!)
I will be taking an assortment of sea glass jewelry with the plan to shoot it on the beaches in England where the glass was found. To see some stunning photography of these beaches, check out the link of photographer Ray Etchells.
Here are some shots of recent work taken by my dear friend Marcy Merrill in her North Cove Washington studio: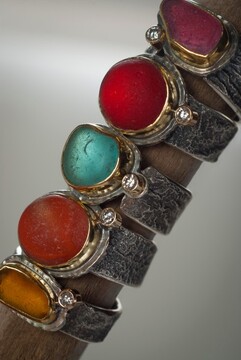 Sea Candy rings in rare shades of Victorian era sea glass with reticulated silver, 22kt gold and small diamonds.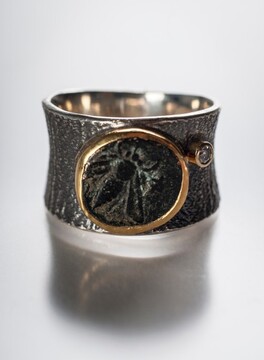 ancient Greek coin with honey bee, circa 350 B.C.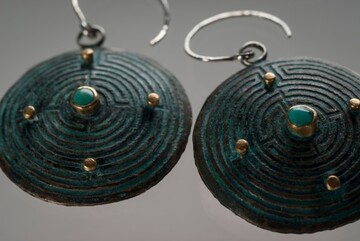 Labyrinth shield earrings-etched shibuichi with 22kt gold rivets and turquoise.
Two shots from Spring and Summer2014 as featured by Kucoon Designs, Los Angeles: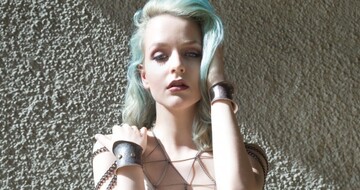 Crusader Cuffs-etched copper with sea glass and moonstones, photo by Daniel Jung