Happy New Year Everyone!
As I work on this draft, we are getting ready for a gale here on the coast of Washington State. It is just getting light outside, the yellow dot-to-dot of deck lights from the crabbing fleet glow across the horizon. In the relative calm before the storm I took photos out on the beach of a new cuff bracelet , stepping back as the tide washed up around my feet…
This cuff represents different processes-from etching the copper with a design, to forming it into a bracelet, adding silver rivets and soldering bezels for the stones, and applying patina until the desired color/s is obtained. The rest of the post will be about the technical steps that relate to each part of the process, with pictures in progress and of the finished pieces.
Step One: Etching
Before the etching, a a thin layer of fine silver was fused to one side of a piece of 20 gauge copper. After that I applied a resist to the copper side. Everything that is not covered by the resist is exposed and will be etched away in an acid bath. Even though this solution does not etch silver, it was covered with duct tape to keep it from darkening.
The first photos show my low tech etching station. When the weather is warm, I set up a table in the garage with the door open for ventilation. I mix a solution of Ferric Chloride with distilled water in a plastic container (yellow colored solution). Essential supplies include rubber gloves, safety glasses, duct tape, wooden tongs and baking soda for neutralizing acid.
As an aside I should mention that when I was a student at Cornish College of the Arts in Seattle, my on campus job was in the printmaking lab. I loved the etching process and did a lot of photo etching of Barbie dolls in those days, printing them on alternative materials like canvas, wood veneer, leather and more, ultimately using the copper etching plates in sculptures.

The next photo shows a detail shot of a future cuff in progress. I took it out of the acid bath to check how quickly the metal was being eroded. The design being etched is a Japanese textile pattern. It was photocopied onto a special contact paper made for circuit boards called PNP paper, then transferred to the copper with heat and pressure. The blue color is the PNP transfer which forms a resist against the acid. Everything that does not have the resist (blue ) on it will be etched. After examining it I decided to immerse it for a longer time to get a deeper etch. I would estimate the total time for this was about an hour plus…
The second photo shows two etchings with different designs. They are taped to foamcore board which allows them to float (upside down) in the acid. Note: you will see how each of these pieces looks as a finished piece of jewelry if you continue to read this post!
After the desired depth of etch has occurred, the resist is removed with acetone. I love this part of the process (no not because of the chemicals, Marcy Merrill a.k.a. Silver Nitrate Queen) because you get to see what it's going to look like!
When the etching is completed the forming begins…
My friend Jeffro set me up with this handy vice stand, made from a salvaged tree stump found on the beach. The steel forming stake that is clamped in the vice was made by Bill Dawson of Mud Bay, WA. The cuff will be given it's shape by a process of hammering it around the stake until the top and bottom edges start to flare out. It is called anticlastic forming.
After the cuff has been formed and filed, stones or rivets (or both) can be added…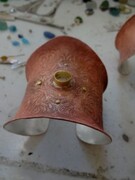 22KT gold rivets and bezel for moonstone are added.
What follows after the bezels, rivets or other accents are applied is the patina process. Patina is the darkening or coloring of metal due to exposure to chemicals or the elements. I have been studying Japanese patina formulas and applications. More about this in a future post.
Here are the two cuff in a finished state:
Gauntlet cuff– copper, silver, 22 kt gold with abalone and a moonstone that was found on a local beach (Thanks Ann)
Satori Cuff– with diamond and 22KT gold rivets.Photos by Marcy Merrill
Photo Gallery: Etched cuffs
These cuffs are made with sterling silver that was etched in Ferric Nitrate. They have an abstract/ organic texture the result of applying traditional asphaltum resists in a free hand manner. The top two photos feature a large moonstone found on the beach. This cuff was made for the beachcombers (and friends) who found the stone.
Rain Cuff-etched silver with Ellensburg Blue agate, custom cut grey moonstones and 18kt gold. This was a custom piece for Chris of Vancouver, BC. who sent the gemstones to me for the project.
Japanese textile -etched cuff with coral, mother of pearl, 18kt gold
Hopefully this post has shed a bit more light on some of the processes and creative surprises involved in the making of jewelry. Looking forward to the projects and adventures of this coming year-and sharing with you!
PS: I just discovered this Metropolitan Museum of Art's Connections/Magic feature. It is a four minute slideshow with Marco Leona talking about science, art and magic-the alchemy of creative experimentation. The art images that accompany it are great. Here is a link: http://www.metmuseum.org/connections/magic#/Feature/

Best Wishes for 2014~