Wedding rings are a great example of jewelry with meaning. Chosen with care to represent both individuals and their union to each other, it is always a great honor for me to work with a couple to custom design the rings that will signify their commitment  and love.
Recently I made the wedding rings for my friends Herb and Bill, from Astoria, Oregon. They have been together for nearly twenty years. On March 4, 2004, they were legally married in the state of Oregon. The rings they used in that ceremony  were made by a  Hopi silver smith, purchased on a previous trip to Sedona,  Arizona.
Eight months after they were married, same sex marriage was repealed in Oregon. It will go back on the ballots in November 2014. Although same sex marriage is now legal in nearby Washington state (yay!) they choose not to get re- married there.They are going to wait for it to pass ( again) in their home state.
Herb and Bill asked me to design some new rings for them, using parts of their original wedding bands. They really liked the organic texture and form of my reticulated silver bands.The idea was to incorporate a piece from each of their rings into the design. Herb's ring had four bear paw prints across the top, in gold. The bear symbolizes healing, protection, power and strength. Bill's ring had a four part  wave motif in gold. The wave symbolizes continuous life and love.
I started preparing the metal during a full moon in April. Lots of positive thought and intention went into the process. It was a bit of a challenge to work with elements that were not completely of my own making. I really hoped that the stylized and polished Hopi designs would mesh with my funky free form organic silver bands….
When the rings were finished, I called Bill and Herb.
They planned a trip up to my studio in Tokeland. (Coincidentally, it was during another full moon.)
They were more than delighted with the look and fit of their new wedding bands! We drank a champagne toast to their new rings and continued happiness together…something old and something new.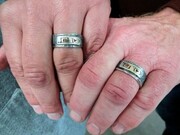 Making it a romantic weekend, they stayed at the historic Tokeland Hotel. Built in 1885, it is the oldest resort hotel in Washington state. They invited me to be their guest for diner that night. We enjoyed a delicious dinner and great company, in the rustically charming dining room, wood stove blazing brightly as the rain came down outside.

http://www.tokelandhotel,com/home.html
Here's to you Herb and Bill, all the best and many thanks!!!