The Bad Seed 1956-there is a tie in to this teaser photo-just keep reading…
The past month has been one of seasonal (and personal ) transition. As the days are getting longer and warmer we prepare  for the setting in motion of ideas, goals and long held dreams…
To start with the most literal: This week the kids and I  planted our vegetable  garden. This always take longer than expected-weeding and digging, waiting out the rainy weeks and digging some more.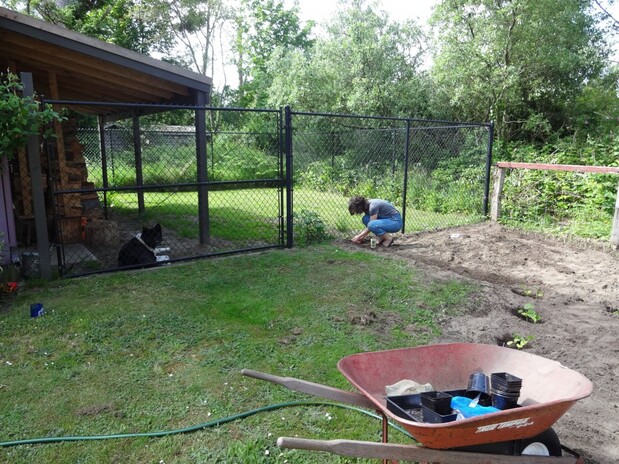 Sophia (my very own Bad Seed) and Bud, planting a row of sweet peas in a small corner of the garden plot
This year we have expanded the size of the garden area because my dad is coming up from Southern California to spend the summer with us. He is 85 years old, in good health and has loved gardening his whole life. The big plan is for him to relocate permanently nearby-and the garden is one of ways we are hoping to entice him to stay beyond September. My theory: If an older person has more family interaction and social stimulation their aging process may be reversed to some degree. He still has a lot to contribute and has said he will probably live for another 15 years. So let's keep him busy and off the streets!
Other exciting news: I have bought my plane tickets and am traveling to Ireland and England for two weeks in August. In Ireland I will be taking a workshop with renowned silversmith Brian Clarke. The class is called Celtic Chasing. Chasing is an ancient technique used to achieve a dimensional or sculptural relief on the surface of metal. I can only imagine how this will expand the direction of my jewelry…

example of Celtic chasing by Brian Clarke
Following the workshop I will travel to the NE coast of England to visit with my sea glass friend Jane and her family. This is going to be a dream come true-to hang with some cool English folk and actually get to set foot on some of the beaches where the sea glass is found! (Not to mention being taken to the Workingman's club) I plan to drink some Newcastle Brown Ale in Newcastle  and hopefully find a few treasures on the beach to take home with me. And of course, gather memories that will last forever!
Jane's beach (which shall be nameless)
The photo below shows some larger size sea glass specimens from the NE coast of England. These are pieces I have bought and kept just to look at…there is also a fossilized clam from our area in the group.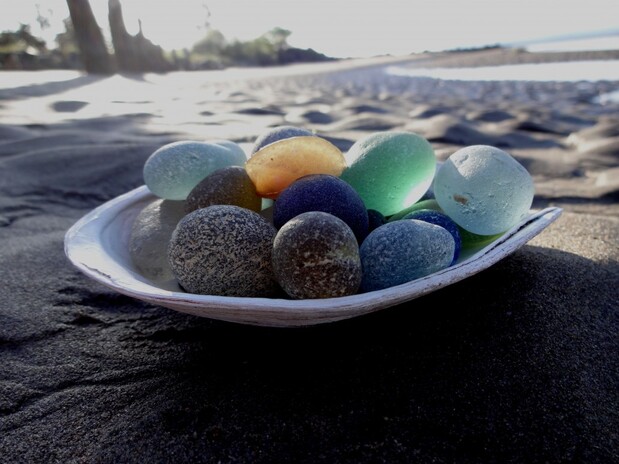 And here are some recent jewelry pieces made with English sea glass: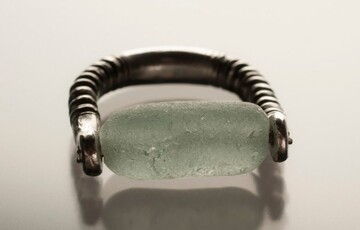 Bottle stopper fragment set in ancient style ring band-photo by Marcy Merrill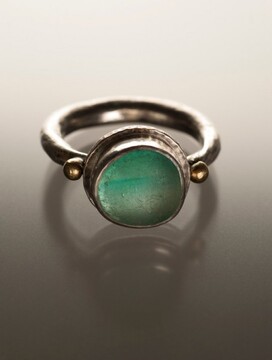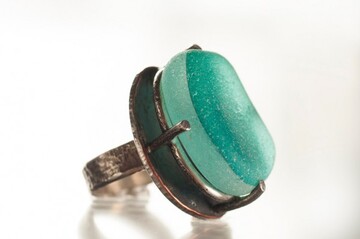 Prong set sea glass with etched copper and silver-photo by Marcy Merrill
Meanwhile back at the ranch…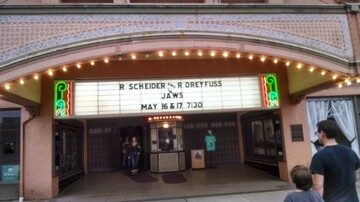 There is a much loved and recently renovated theater (vintage 1929) in the city of Hoquiam. (about 35 miles from where we live.)  It plays classic films and hosts live performances on occasion. I never miss a chance to take my kids and their friends to see films like The Bad Seed, (as pictured at header) Them, The Wizard of Oz, The Planet of the Apes, Psycho, La Cage Aux Folles (with live drag show!) and The Sound of Music. Last weekend we saw JAWS on the big screen. I remember standing in line to see this movie when it was first released in the summer of 1975. How fun to revisit it again on the big screen with my own kids-a rite of passage as summer (and swimming) approach!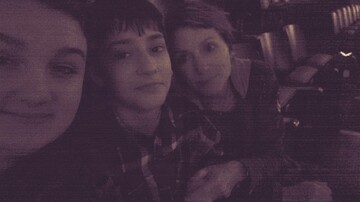 L-R Leah (good friend) my son Raleigh and me…
Only a few weeks left of school for the kids-as for me-I am working daily in the studio and enjoying this last bit of solitude.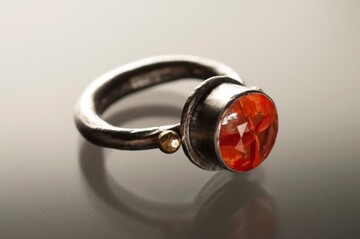 Something new: ancient style ring design with faceted cat's eye marble-Marcy Merrill photo
In Closing….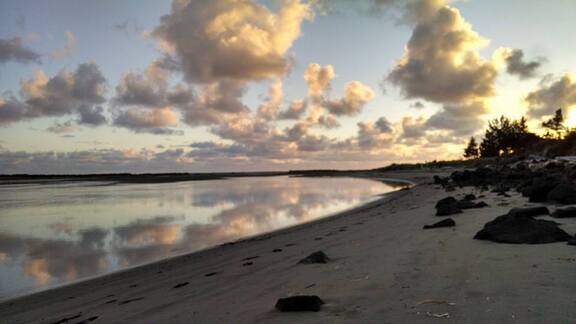 As  family visits and international travel loom, I promise to keep you updated on all of the above-it should be an interesting summer. I hope you have some great adventures planned as well (and that they do not include winning a penmanship medal!)