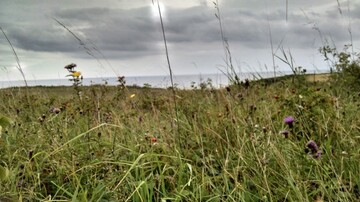 I dreamed last night that I was on an English beach with my mother and sister. The tide was coming in, but I took a quick look on the beach and instantly found two fist- size pieces of sea glass. Both were globular shaped with blue stripes and frosty pitted surfaces. On the ground at my feet were sea marbles sitting on top of the pebbles. I picked those up and some smaller deep blue pieces of glass. Went back to get my mom and sister to join me…
I had planned to start writing about my recent trip to Ireland and England in chronological order-starting with Ireland, where I took a metal smithing workshop with Brian Clarke, and then a second post about hunting sea glass on the NE coast of England. After last night's dream, I am changing that. I rarely dream about my mother. She has been dead for twenty years now. But everything was so vivid in that dream-sharing my excitement with her at finding the sea glass made everything fresh again-so here goes.
First off, I have to say that the sea glass was not easy to find.
I have been buying Victorian-era sea glass and using it in the jewelry I make for years now. The glass is found on the NE coast of England and Scotland. It was once factory waste from the many glass manufacturing plants along the coast. Over the years of buying glass from a few collectors who live along the beaches there, I became especially friendly with a woman named Jane-(aka Jazomir sea glass.) We seemed to share certain things in common, and struck up an online friendship through Facebook. Jane generously offered to host me should I make a trip out to her part of the world. (In preparation for this, I developed a taste for Newcastle Brown Ale.)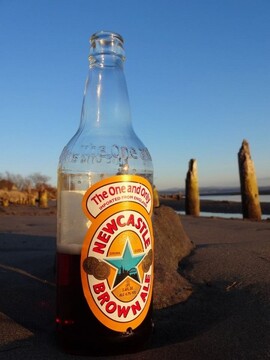 aka Newkie Brown
Last month, I flew from Dublin to Newcastle, and Jane met me at the airport. Thus began my up close and personal introduction to the world and culture of English sea glass. I saw some of the collectors I knew from online sites like Esty, eBay, and Pinterest, strolling the beaches in search of glass. It was a true Who's Who of sea glass folk. It was dreamlike to see names connect to actual people, many not appearing at all as I had envisioned.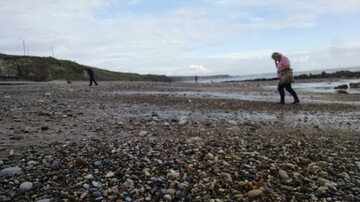 note the sea glass stance-it makes for a sore neck after hours of this on chilly beaches!
At a party that night at Jane's house, I met the Queen of Sea Glass herself, Laurel, She brought a gift to me of a huge champagne colored orb of sea glass, larger than the palm of my hand. Laurel has been collecting sea glass on the local beaches for twenty years and has coined a lot of the terms used to describe its many shapes and forms. There are also highly specific names for colors, as I was to learn.
But more than the physical properties of sea glass, there is a philosophy to collecting-according to Laurel. She abhors those who use sticks to poke through the deep layers of pebbles to uncover glass as it causes damage. She holds those who actively seek it by sitting down on a pile of rocks and covering every inch with distaste. Laurel's method is to stroll down the beach at a reasonable clip, letting the glass catch her eye. It finds HER.
Laurel's tiny dog, Pepper, is also good at finding glass-as are Jane's two border terriers, Poppy and Levi…They both laughed about the times when cleaning up after their dogs they find an especially fine piece of glass that they hadn't noticed earlier.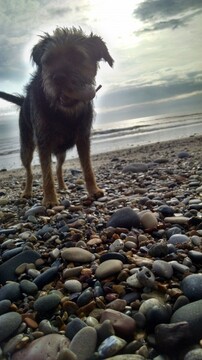 Levi (with rock in mouth) Heidi
Another huge no-no is to name the beaches where glass is found. Laurel joked about blindfolding me before going to a very private beach, but it wasn't ALL joking. The popularity of English sea glass has created a market and determined collectors who are out rain or shine to harvest sea glass and sell it for ever-rising prices. The old timers say it is not as easy to find, and let's face it, there is no more dumping of glass factory waste to create a new supply. The average time glass has been tumbling on the rocky shore there is about one hundred years or so.
As a beginner, I saw white and green glass on occasion, while next to me, Jane would pick up a beautiful multi-colored purple and blue piece, or a sea marble. Jane said that you learn to filter out the extraneous things like rocks- and see the glass. I was absolutely thrilled to find a small rose-colored piece-a rare color indeed, raising a heartfelt "well done!" from Jane instead of her sweet "that's nice" response to my previous finds of green and aqua shards.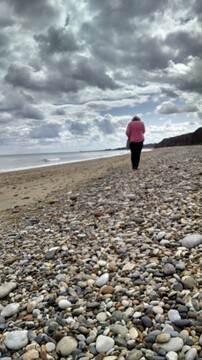 Jane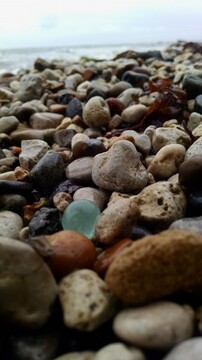 a sea marble-as found on rocks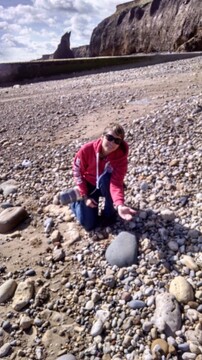 On my last day I found my first sea marble!

The next day we went to the secret beach, let's call it Hex beach. Earlier that morning we had been to two other more popular beaches. We walked about 45 minutes through beautiful fields overlooking the beaches to get to the trail approach. As the low tide was nearly over, we knew there wouldn't be a lot of time to spend on this beach. You had to wind around rocky outcrops which lead to a series of small beaches. At high tide, it would not be possible to get around those rocks. If we did get stuck by the tide, there was an escape route that Jane knew about-an almost vertical goat trail leading up the muddy cliffside. I did not fancy taking that route!
Mythical stories of finding treasure in secret coves or caves as hot lava flows or angry gods approach were going through my mind as every beach led to more incredible sea glass. With one eye on the tide and the other on the ground, I enjoyed the thrill of knowing how close we were cutting it. It was raining and I was thoroughly drenched but didn't even realize it.
As we timed our way back around the rocks to the brief ceding of wave motion, I knew the thrill and sport of extreme sea glass hunting. (okay, others would argue that diving off the N California coast is the true extreme sea glass hunting, but I will NEVER be doing that)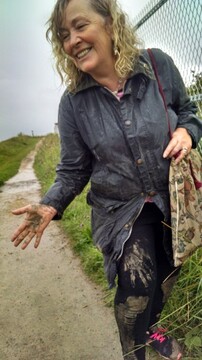 Jane looking smashing in her mud printed leggings, as we climb off the beach.
I brought along some finished pieces of jewelry with the intention of photographing them on the beaches where the sea glass was found-full circle.
Here are a few photos: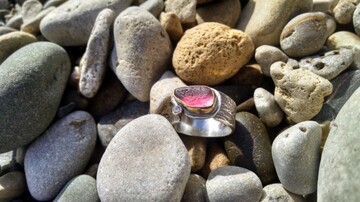 pink sea candy ring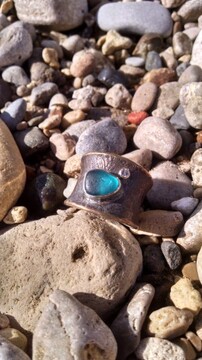 Salt Water ring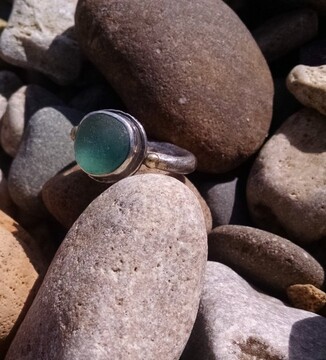 Infinity ring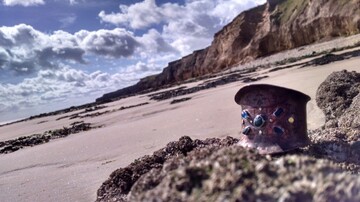 Gauntlet cuff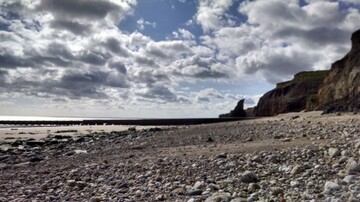 Trevor's Beach
I must say that the genuine friendliness that Jane, her husband Trevor (aka Ocean Wanderer on Etsy) and their family showed to me was something I will always treasure. We made a real connection via our love of the ocean and sea glass. We discovered we also shared a love of gangster films (thanks for introducing me to British gangster genre, Trev) good food and drink, music and so much more.
After four days of beachcombing, it was time to say goodbye…I never did make it to the local museum which would have given me more information about the area's industrial roots in coal mining, glass making and more. Guess that means I will have to make another trip.
As Jane and I sat in the Newcastle airport, sipping cappuccinos and spending a few minutes together before I boarded for London (my suitcase loaded with sea glass and rocks) we vowed to meet up next summer and take a road trip to Scotland. I will drink to that!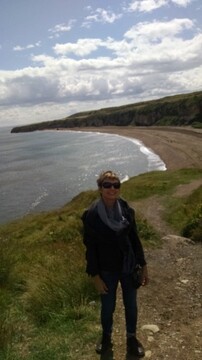 Cheers!