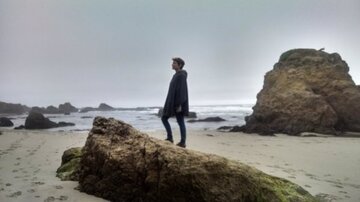 "I tramp a perpetual journey."-Walt Whitman, Song of Myself
My sixteen year old daughter Sophia and I just returned home from a trip to the California coast. It was our first road trip together. We were headed to a Sea Glass Festival in Cayucos.
I was one of forty other sea glass artists, writers, and photographers, showing their sea glass creations in this idyllic little town, located close to Moro Bay and San Simeon.I met some of the sea glass world's icons, like author Richard La Motte, and artist Monica Branstrom. The show was well organized and blessed with perfect weather and large crowds. It was a big success for me, due in no small part to my excellent helper, Sophia, whom I relied on in every way. She did not disappoint!
It has been a trip I will always hold dear, for so  many reasons: renewing bonds with childhood and high school  friends, seeing my brother and our eighty six year old father,(who drove up from Los Angeles with two accordions, two mandolins and a bouzouki for us from dad's personal collection-I mean, his closet.) I got to meet Al and Celia, online customers who live in the area face to face for the first time- (they brought me gifts of almonds and wine!) The enthusiasm of new customers was wonderful-and promising for next years show.
Add to this the magic of the California coast, Carmel, Big Sur, Glass Beach, and the REDWOODS.
I will let the pictures tell the story, because I don't have adequate words yet…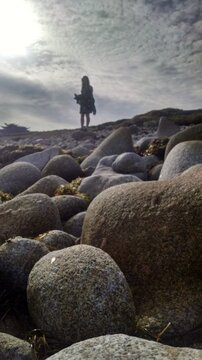 Sophia on the rocks near Monterrey, CA
After two days of driving from Tokeland WA, we reached Pacific Grove, CA-John Steinbeck's old stomping grounds. We spent two nights in the area near Cannery Row, going to the tide pools, hanging out with Monarch butterflies, and gallery scouting in downtown Carmel. At Rumble Seat Guitars we drooled over the vintage guitar display. When the sweet owners asked us if we would like to try any of them out we dropped to our knees simultaneously and shouted "We're not worthy!" (Not) We left with free picks and lots of inspiration!
BIG SUR
When I was Sophia's age, I visited Big Sur for the first time, on a high school backpacking trip. The beauty I beheld then sort of split me apart. It continues to influence my art and spirit to this day….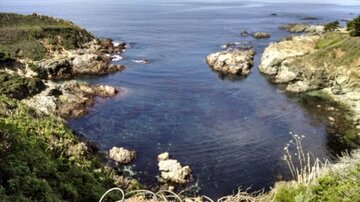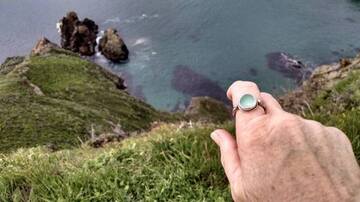 Jewelry shoot on the beach at Big Sur where brown kelp, blue green water, craggy rocks, are my photographic muse.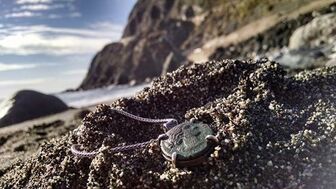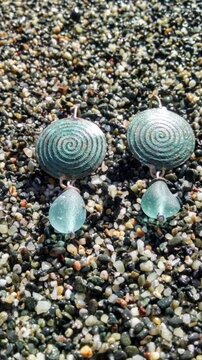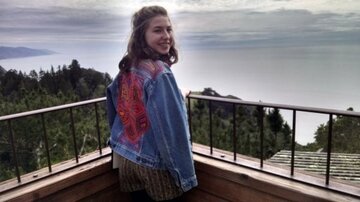 Sophia on the porch at Nepenthe, Big Sur- a world class view of the Pacific and great food too!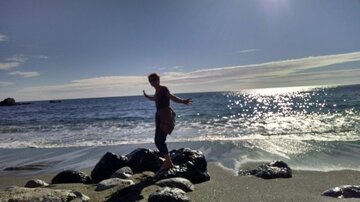 Warm sunny weather induced us to ditch our motel reservations and camp on the beach that night at LimeKiln Campground.
We slept to the roaring of the ocean, a starry sky and half moon hanging over the ocean…
Cayucos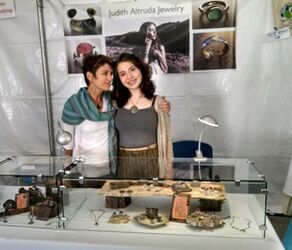 Sophia and I before the show opened…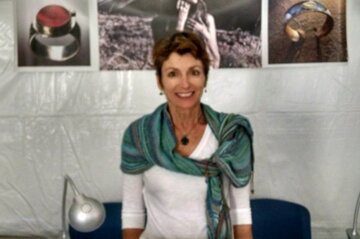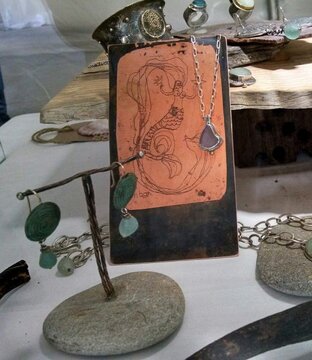 Etched Mermaid drawing by our five year old friend Timber was a great display piece (and must have brought us luck, because Cayucos broke my previous sales records.)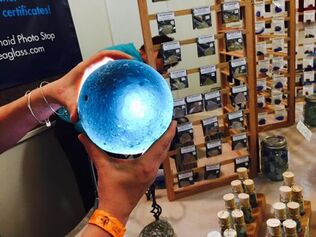 This sea glass, touted to be the world's largest, was on view at the festival. It weighs five pounds four ounces and   was found on the NE coast of England.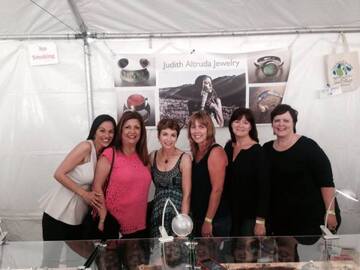 Some of my Ramona Convent class mates, came up from the LA area-it was the first time we had been together in 37 years…( and we still look exactly the same 🙂 ) It was so moving to hug these girls after more than three decades!
Glass Beach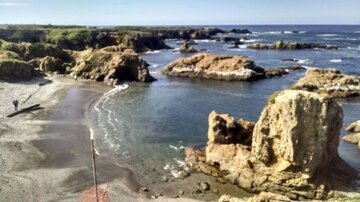 I have been given sea glass from the famed Glass Beach in Northern CA, and am often asked if I have ever been there. This trip had to include a detour to see it for myself.
We arrived on a very foggy afternoon, after a day of driving North from Cayucos, through the Bay area and some very twisty roads in Mendocino County-wine county. After checking in to our motel we headed directly for the beach.
Fort Bragg has three historic dumps sites spanning from 1906-1967. Because of the rock formations and how they affect the tidal flow, nothing gets washed out to sea there. This is why there were multiple dump site, after one was filled another was started. Wherever there are dump sites, there is bound to be lots of glass. Glass that in this case did not get washed out to sea, but was sanded and shaped by right there, becoming buried under slag.
There are three beaches to find sea glass, each located at a former dump site.The most popular is called Beach Three.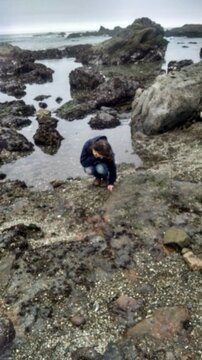 I must say, after all the photos and hoopla I have heard about this place I tried not to expect too much. It is visited by thousands every year, many taking away buckets full of gravel and glass. We found tiny chips of green, white and brown colors in isolated areas.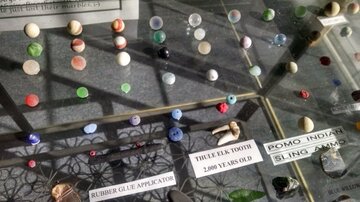 The next morning was sunny. We started the day with a visit to the Sea Glass Museum. It showcases well organized displays of sea glass found locally and around the world. It's chock full of information about glass-how the color can change over time-such as sunlight turning clear glass purple, rarity of certain colors, and a black light display of ultra violet glass that glows green due to its uranium content. In short it is a great museum. We talked to it's curator Capt. Cass about the local beaches. He marked the way down to beach#2 on a map. After purchasing his informative book, Beaches of Glass, we were on our merry way, back to the beach!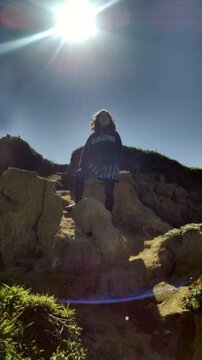 Climbing down the cliff to Beach Two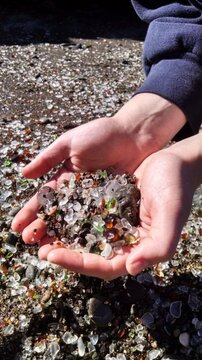 This beach was nothing but sea glass! Crunching underfoot, glistening in the sun-I felt like I was in Ali Baba's secret cave….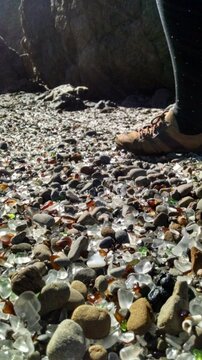 Disclaimer-we did not remove any glass on the state beach or above the mean tide line.
I tried to remember to breathe as we took it all in…I selected a few pieces of glass to bring home, being careful to take nothing that I would probably not use later.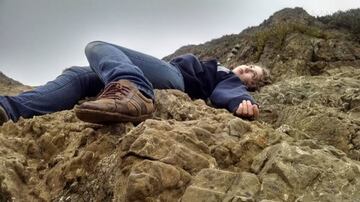 "Mom are you done yet?"
I was completely sea glass satisfied, as we climbed back up the cliffs and headed on the the redwoods…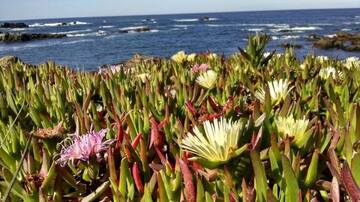 Goodbye Ft Brag-until next time!
Avenue of the Giants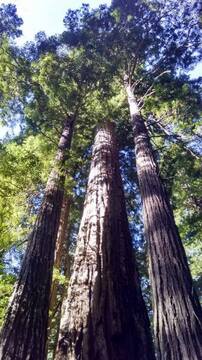 There is nothing on earth quite like the redwoods-they are the tallest living things, and some of them are the oldest too…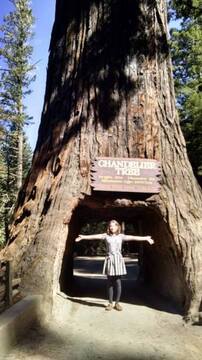 World Famous drive- through wonder~ The Chandelier Tree. It is 2500 years old and appears to be thriving. It was worth the five dollars to drive through it!
The drive on the Redwood Highway, US 1 and 101 is a unique mix of history and natural wonders, seasoned with folksie roadside attractions. (Most all of it is free, with no admission charged.)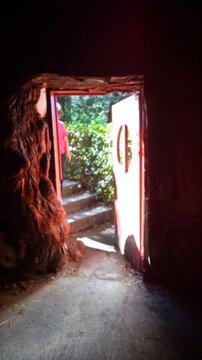 Inside the Chimney Tree-hollowed out inside for a great hobbit hole!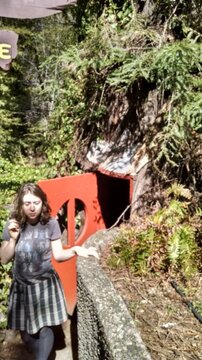 Exiting the Chimney Tree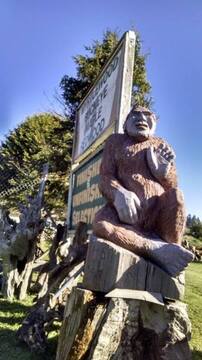 Bigfoot lives!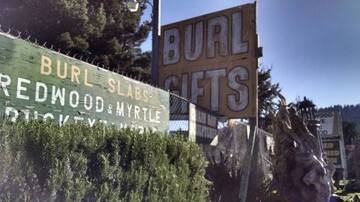 Pure Burlesque!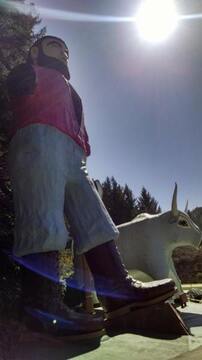 Paul Bunyon and Babe the Blue Ox at the Trees Of Mystery near Klamath, CA
There is a really great Native arts museum here. Walk through the tourist shop and take some time to go through the extensive displays of Native American artifacts. They have a wonderful collection of Northern CA tribal basketry and more…in their bookstore I bought a copy of Ishi, the Last of his Tribe for Sophia, a book I read at her age and never forgot.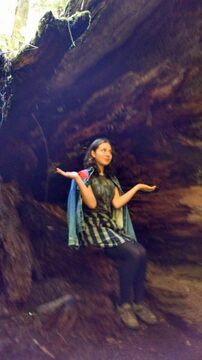 Sophia in the Avenue of the Giants-redwood root behind her…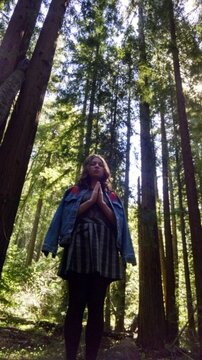 At the LadyBird Johnson Memorial Redwood Grove, near Orick CA

All Good Things…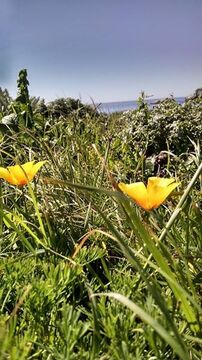 After we left the Trees of Mystery and got in line behind other cars following a pilot car past road construction, I saw a piece of cardboard in front of me and had no time to move around it. So I drove over it. As I did, I saw (to my horror) spikes coming out of one side-and it was plywood, not cardboard. Our car thunk thunked over the plank. I was telling myself I had imagined the spikes, when Sophia said "Mom-that board had nails coming out of it!"
There was no place to turn to the shoulder, so we stayed in the line of cars and kept driving until past the work site. I pulled over to take a look at the tires on the right side. They looked okay. So we continued driving, listening for the thumping sounds of a flat for another 80 miles, hoping to make it to the nearest Les Scwaab in Grants Pass, Oregon. That drive was pretty tense, as I thought about how everything in the trunk of the car, including our luggage, the  heavy glass for the display cases  and  an  accordion, was loaded over the spare tire. I REALLY did not want unload everything on the side of an isolated highway…But at least it wasn't dark or raining. And…we made it to the tire shop, they checked it out and said we must have been lucky-no leaks!
That night in the hotel I dined on leftover kettle corn and wine, while watching Dance Moms on TV with Sophia. (Don't worry, she had been properly fed.) The next morning we left Sutherlin OR for a nine hour drive to Tokeland-easy all the way!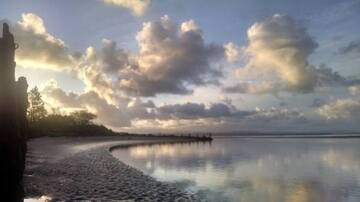 "There's no place like home."
Hope you have enjoyed this recounting of our road trip/sea glass sojourn. There is more I have to share, but will do that through the jewelry I plan to make!
If any of you happen to be in this SW Washington area, you might like to come to out 9th Annual Tokeland Studio Tour, Saturday April 18th from 10:00-5:00.
Thanks for joining us~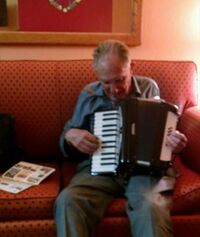 "That's All,, Folks"
PS: Yesterday after I posted this, I got a call  from Jason at Three Crows Garage, in Westport WA, After fifteen months of restoration and a lot of blood, sweat and tears, She was finally ready to come home!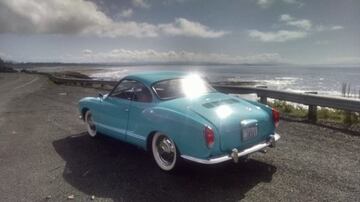 Stopped at Washaway Beach to take this photo-Ready for the next road trip? You bet!