From Naples, we took the Circumvesuviana to Sorrento, squeezing onto the standing-room-only train, suitcases at our feet.  The ride from Naples to Sorrento took an hour. I was glad we were there before the hot summer season approached!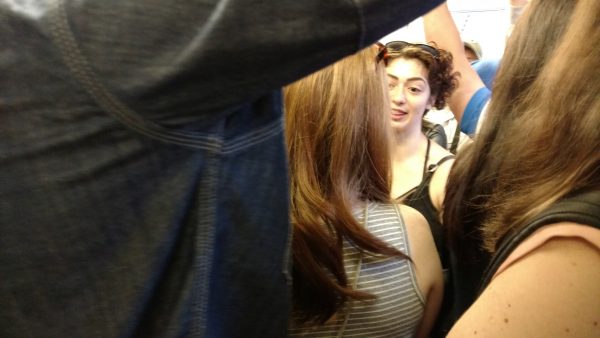 When my friend and I were planning this trip, we reserved four days in Sorrento. Both of us had been to Italy before, but never in the South. There is so much to see and do in this area! Of course, four days is not nearly enough. Our wishlists included: hiring a cute driver to take us sightseeing along the Amalfi coast, taking a boat to Capri, going to  Pompeii and Herculaneum, perhaps hiking Mt Vesuvius, seeing the ruins at Paestum, and, oh yes, I hoped to meet in person an online friend and sea glass collector, Rebecca Di Donna, who lives in Torre Del Greco.
When I was a kid, my grandmother often used the cautionary expression  "your eyes are bigger than your stomach."  This adage relates not only to food but to everything, really-especially time.  While I have always slanted toward  Auntie's Mame's "Life is a banquet" outlook, sometimes less really is more. My advice to those planning a trip; don't overfill your dance card. Slow down and savor the details, leave room for the unexpected.
Sorrento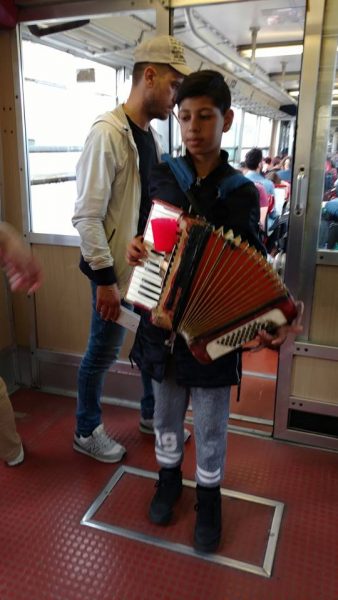 When the train reached Sorrento, a young boy with an accordion came aboard and started playing Italian folk songs. There was a plastic cup for tips attached to his battered accordion. I made sure to leave some euros in it as we departed. I would discover on subsequent train rides that Sorrento was a regular haunt of accordion playing buskers, (but more on that later.)
Home Sweet Home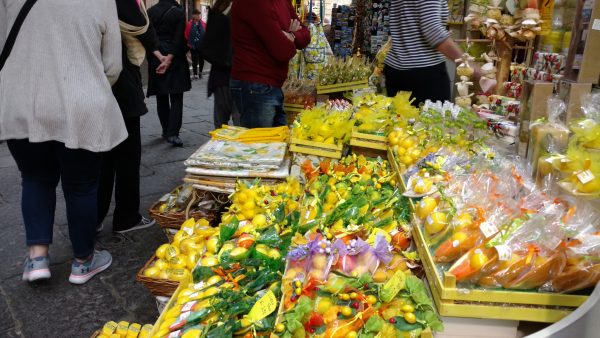 As arranged, In the town square we met Max, who was sent by our air b&b host to guide us through the maze of streets to our destination. After Naples, this resort town felt a bit like Disneyland, filled with tourist shops and higher priced restaurants.  As we followed Max, I eyed the goods displayed in front of stores-leather purses, ceramics, lemon-based gifts, resort fashions, jewelry and more. We turned at a gelato stand and went back from the street to our air B&B. Casa Torino was located above a florist shop in the heart of old Sorrento. It was airy and comfortably equipped, with a full-size kitchen, fold out couch on the lower level and an upper sleeping loft. We had a view down to the street below and could watch the interplay of tourists until a heavy rain started to pour, bringing an abrupt end to the activity below us.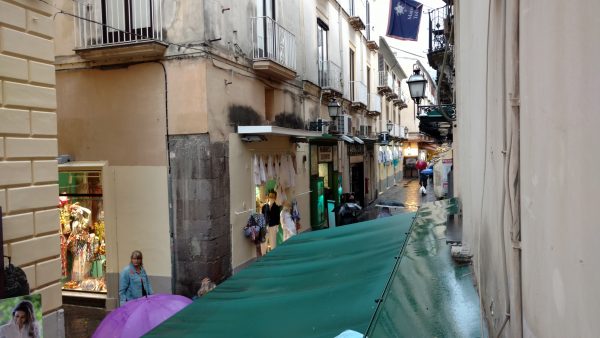 Max offered the services of a private driver for an Amalfi coast tour, and to put us on the passenger list for a small boat to Capri if we were interested. We decided to make reservations for both at the end of the week when hopefully the weather would be better. We settled into our new place and then decided to go out and explore in the rain.
We ventured out with those umbrellas bought in Vasto. The late afternoon streets were empty,  many outside displays were covered with tarps. Hungry, we shopped for cibo e vino at the local deli and fruit stands, and yes, my eyes were bigger than my stomach!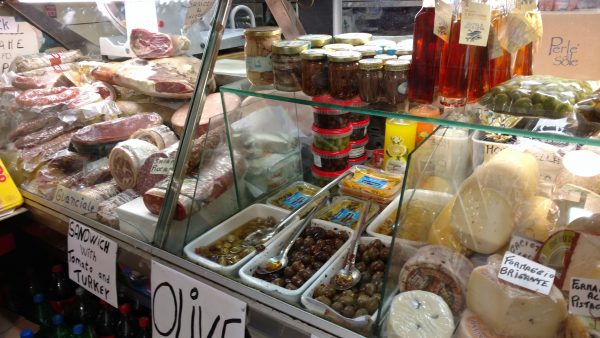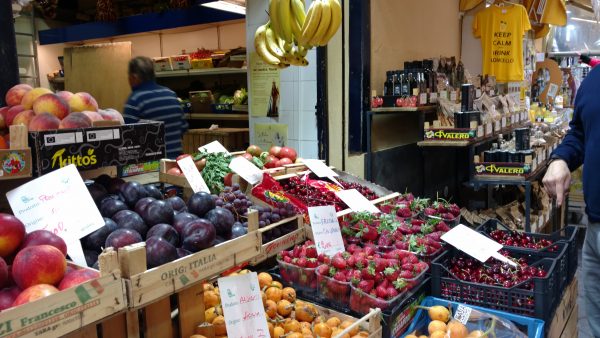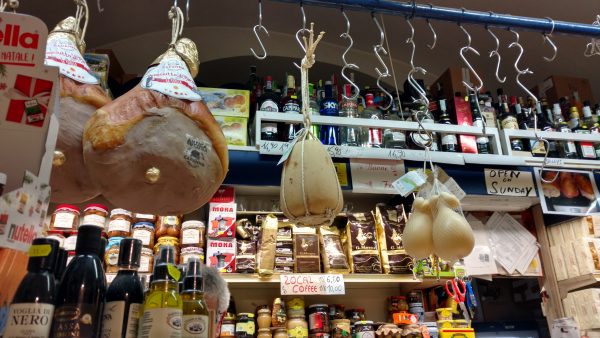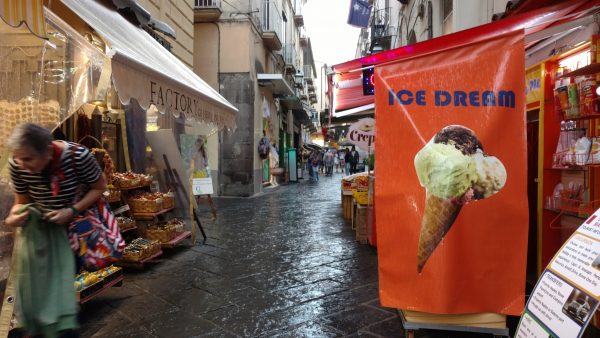 We returned to our cozy apartment with wine, fresh baked pane, salami and cheese. Tomorrow we would spend the day exploring the ancient ruins of Pompeii-rain or shine.
Next Post: Pompeii