An art colony is a place where creative people live and exchange ideas with one another. Think Big Sur or Laguna Beach in the 1950's and '60's for example These were places artists went to "get away from it all" and live the dream. Today Tokeland, Washington is such a place-a haven for a diverse group of artists drawn here by the beauty and isolation. The lack of development and distraction provides the kind of setting that gives birth to dreams and creative experiments of all kinds. Although the art forms are diverse they are connected by place.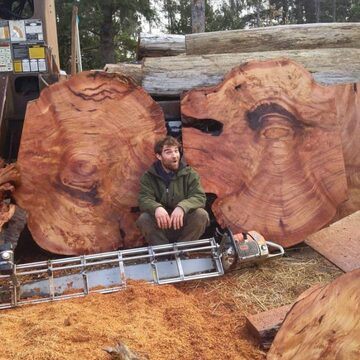 Some make art with material gathered from the beach. Jeffro Uitto salvages wood from coastal waters and builds fantastic large scale sculptures from his Tokeland workshop. From here, his pieces are shipped to national art shows and displayed in museums worldwide.
Judith Altruda is a metalsmith who gathers sea glass and black stones from the beach, setting them in silver and gold. Sophia Anderson, a senior at Evergreen State College, paints portraits of her Shoalwater Bay tribal ancestors on wood reclaimed from houses that washed away at nearby North Cove.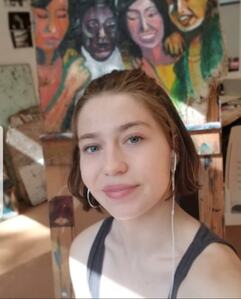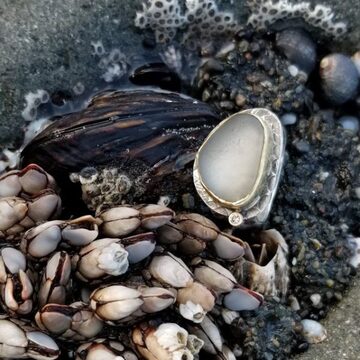 Many are inspired by the rustic beauty of the area. Oil painter Melody Gerber only has to look out her bay facing studio window to find inspiration. Joanne (Nelson) Barney photographs the places she has known all her life-from fishing boats to wide open tidelands. Marcy Merrill finds an endless source of inspiration for her photography in the flotsam that washes up on local beaches and river banks. She describes her collection as "Items found in local waters and quirky images thereof."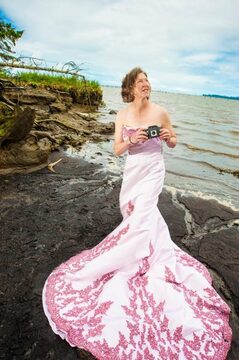 North Cove Glass blower Jeremy Bartheld says "the climate is very conducive to playing with fire. It doesn't get too hot or too cold to work in the studio."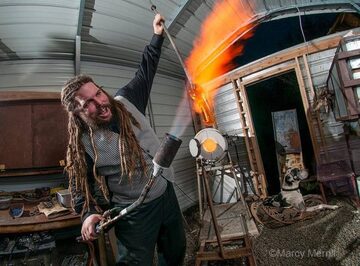 Shoalwater Bay tribal artist Earl Davis draws on his heritage to carve replicas of bowls, house posts and other items made by his ancestors and now housed in museums.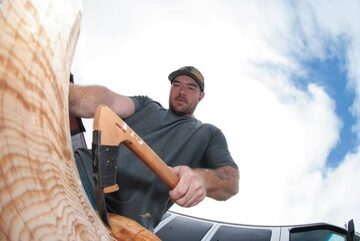 Once a year these artists open their studios and invite other artists to gather in communal spaces and show their work. Mark your calendar for Saturday, May 4, from 10:00-4:00 Pick up a free map or follow the signage to each studio. After the tour, join the artists at a wine tasting and art auction to benefit Ocosta High School's art program.