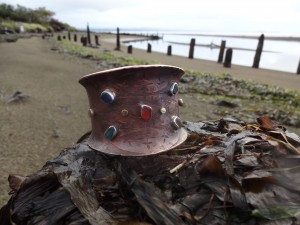 It's been awhile since my last blog post..September has come and gone and with it, the summer season. When you live in a beach town there are definite signs of the season ending beyond the obvious (shorter days, cooler temps) My neighbors for example- most are summer people, who spend the blissful season here in vintage cottages and deluxe RVs. For about a week or so in August a flurry of activity goes on: cleaning rain gutters, pressure washing porches, scrubbing moss off the roof with bleach, mowing lawns and killing gorse. All this while I am lying on a beach towel in the backyard reading Yes I Can by Sammy Davis Jr. I am soaking up sunshine for my internal solar battery. This is an essential part of winterizing for those who live here year round. We wait to clean out gutters, maybe the patio never gets pressure washed, but we are tanned!
We know It (It meaning the rainy season) is coming and we face it with a strange sense of surrender and relief. Yes, there will be rain and more rain (more on that later) but there will also be peace, solitude, a beach with no footprints….the drama of storms (more on that later) the coziness of evenings spent feeding a fire.
For me, the days are especially great now that the kids have started back to school. Raleigh is a 7th grader, and Sophia is a freshman in high school this year. Both are running on the cross country team and both play in the school band. We spent a lot of time together over the summer and I treasure it. But I am also treasuring these long days alone at home, back in the studio, returning to projects that have been in my mind for too long. Keeping a balance is never easy, but right now there seems to be a good balance between surface level living (keeping food in the house, chopping firewood, picking up the kids from practice everyday) and below surface level~the deepest place of creative dreams and manifesting them.
We've already had a walloping three days of rain and wind blow through here. Nearby Astoria, Oregon reported ten inches of rain for September and 75 MPH wind gusts were clocked here over the weekend. Let the games begin!
What follows are some photos taken today in honor of October. It felt great to get out on the beach in between rain and hail showers…
Fifteen minutes later a hail storm. Seen from inside my studio….light is from a fishing boat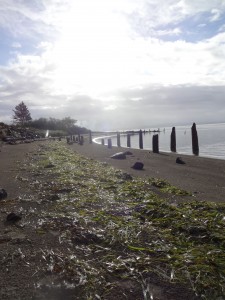 after the squall…sunshine feels extra good!
Hope your fall season is a time of positive transition~I will keep you posted!