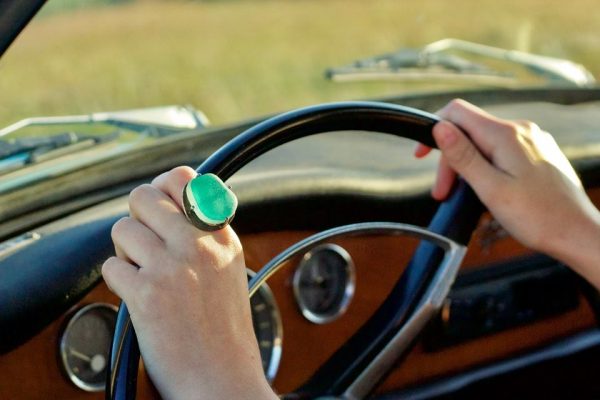 Recently I was headed down the coast with my sister to a sea glass festival on the central California coast. Along the way, we stayed a couple nights in Ft. Bragg, to visit world-renowned Glass Beach. This post will include highlights of that journey down Highway 101 through the beaches and redwoods of Oregon and Northern California.
We began in Astoria, Oregon with a thermos of coffee and about a year's worth of conversation stored up between the two of us.  Our last road trip, the previous March, had been to place our dad's ashes inside a niche at Forest Lawn.  We had a lot of catching up to do.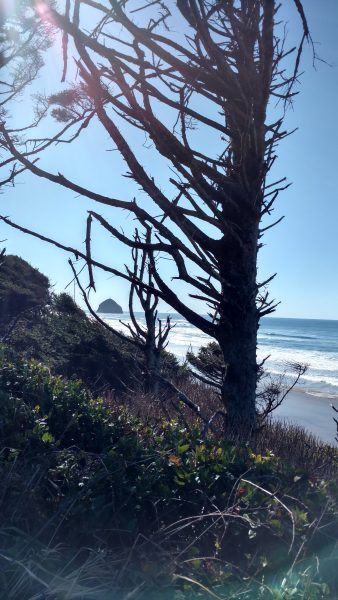 Whatever Happened To? 
We hadn't driven very far from Astoria when we took a side trip to find Lex's Cool Stuff  in Netarts. We had not seen Lexi since we were living in Sunset Beach, California, way back in the seventies. Back then she made candle holders and other crafts from shards of broken automotive glass and surely must have been at the forefront of upcycled art. Our brother told us that Lexi had moved to Oregon and opened a shop. We found her tiny place on a road that overlooked the sea. Unfortunately, it was closed that day.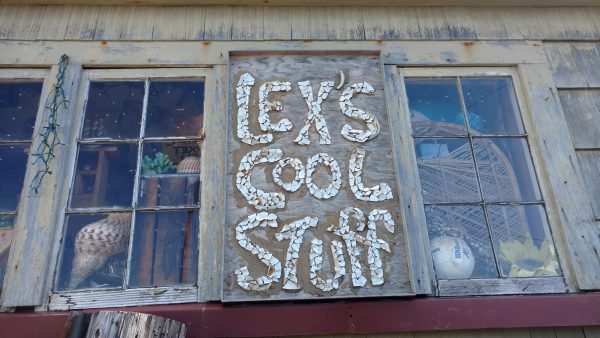 Having many miles to travel, we moved on down the highway, vowing to return at a later date. Our drive took us through the towns of Newport, Lincoln City, and Gold Beach with scenic points of interest in between such as Devils Punchbowl, Devil's Lake and Boiler Bay. Just before spring break, the towns were quiet, the highway uncrowded, perfect timing.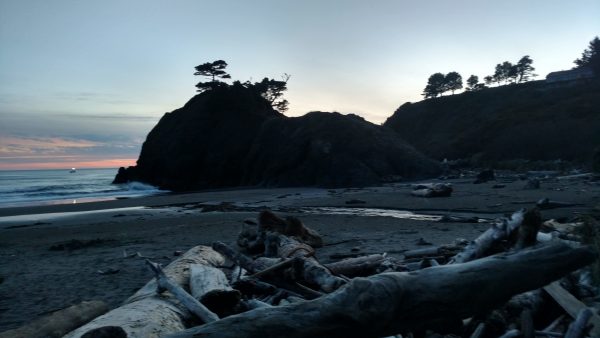 We stopped for the night close to the Oregon/California border, in Pt. Orford. This is a magical little place, with an amazing restaurant and art gallery nestled on the bluff above the small commercial harbor. We took a sunset stroll before checking into our room and then heading to Redfish for dinner. We knew this would be a special dining experience and were so glad to make it there before the final seating of the night!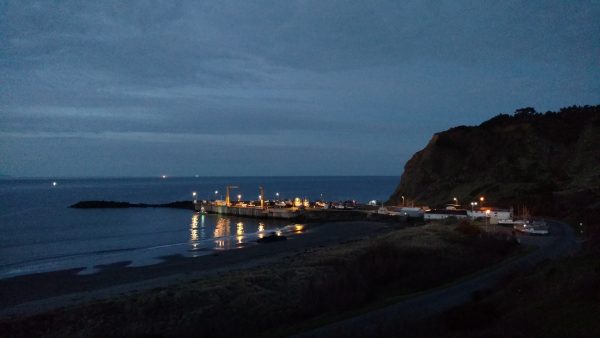 We slept with the sound of crashing surf coming through the open window and woke to a colorful sky at daybreak. We started the day with a walk on the beach as the sun cleared the hills.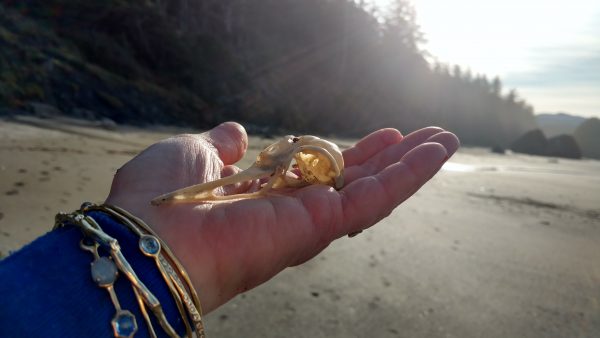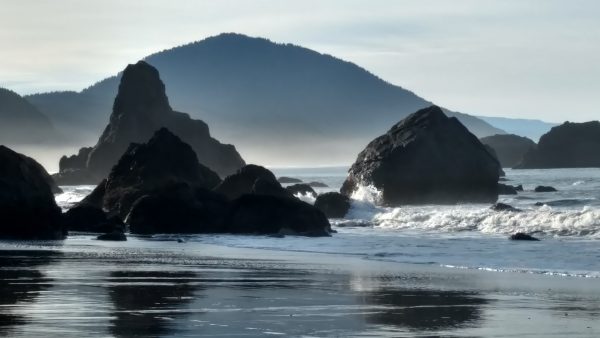 Another Roadside Attraction
We had barely said goodbye to Pt Orford and crossed the California border on Highway 101 when we had to stop again-for dinosaurs.
To my sister's great disappointment, this roadside attraction was closed. We will have to visit the lifesize T Rex and brontosaurus another time, I guess.
We continued south on Highway 101 which offered sublime views as it hugged the cliffside high above the sea before plunging into misty stands of ancient redwood groves. Sprinkled between tiny towns, art galleries and quirky roadside attractions offered everything from redwood burls and bigfoot carvings to monumental metal sculptures and more.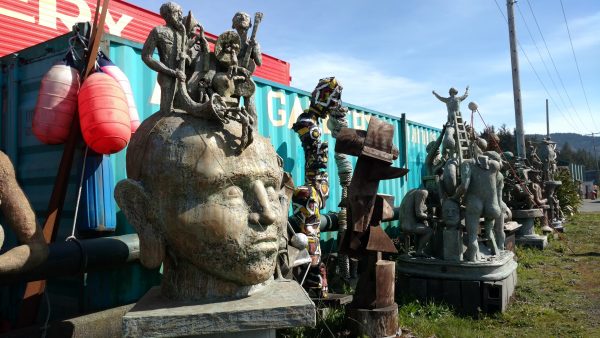 The Redwood Highway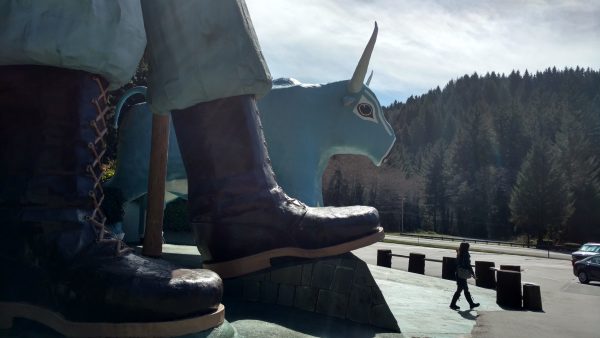 We stopped here to stretch our legs and for my sister to buy a redwood seed at the gift shop. The museum is really worth touring, especially if you admire Native American basketry. We drove along the Redwood  Highway, the twisting road flanked by massive trees, dark and moody. It is indeed a "Place of Wonder".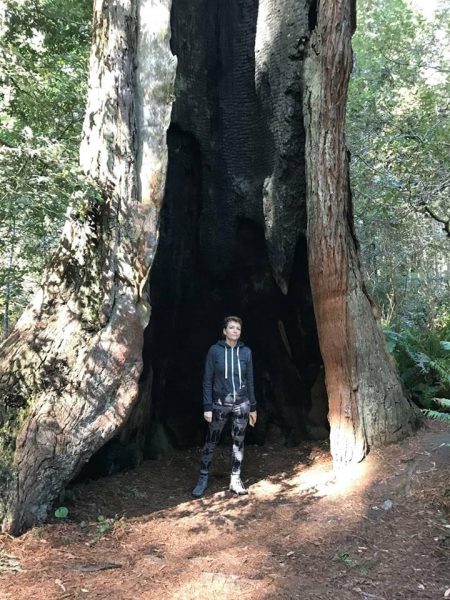 We stopped to picnic in the LadyBird Johnson Grove.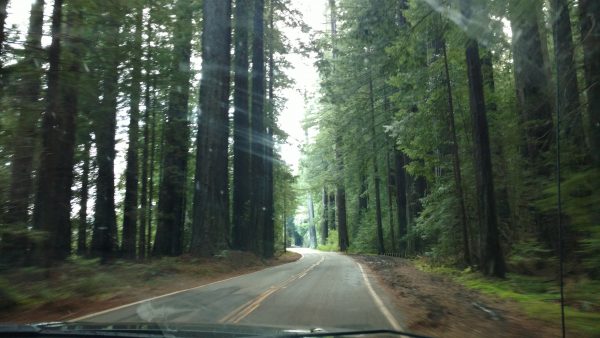 In  Humbolt county, as we drive through the towns of Fortuna, Scotia, and Garberville, there were ample opportunities to stock up on redwood in many forms for those seeking a souvenir.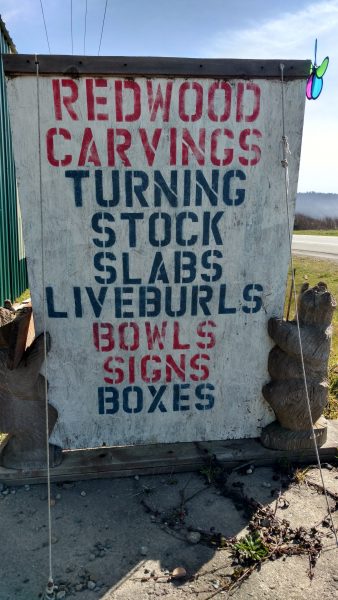 Or maybe something larger?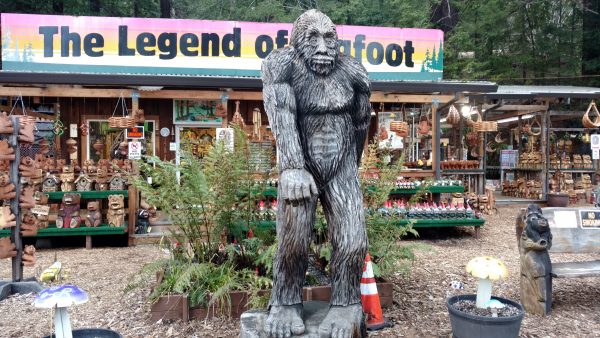 At the end of a long day's drive, we emerged onto Highway 1 and reached Fort Bragg at sunset.
Without Further Ado; Glass Beach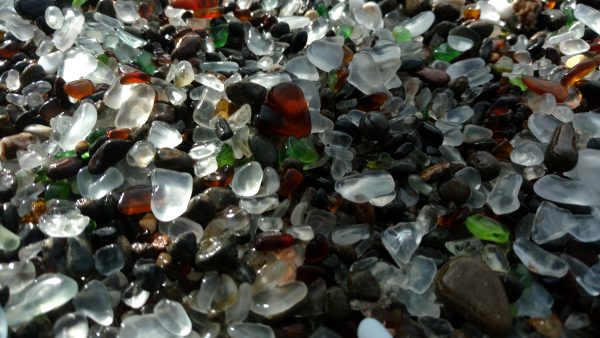 We timed our trip to coincide with the tide, knowing we would have two low tide mornings to explore the beaches. We woke early the next day and drove to the Glass Beach approach. We left our car there and proceeded down to the trail along the bluff. For those who don't know, what makes Ft. Bragg a major destination for sea glassers is the fact that it had four city dumps located right there on the beach from about 1895 to about 1969.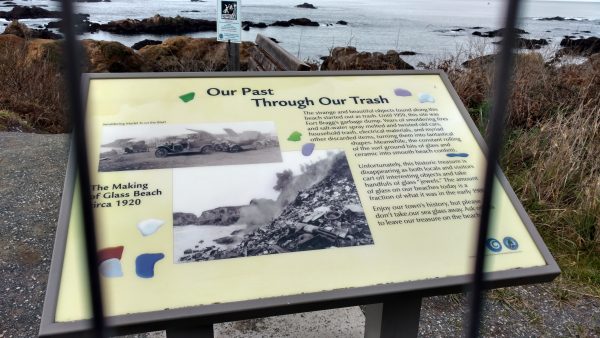 Our mission was to shoot some of my sea glass jewelry on location at the beach. I did see a few people on the beach picking up glass, but it is highly discouraged by the city of Ft. Bragg, which seek to protect this amazing treasure for all to enjoy. I recommend a visit to the International Sea Glass Museum, operated by Captain Cass. It will give a better understanding of what makes Ft Bragg's beaches so unique and has well-organized sea glass collections from all over the world on display. As an extra bonus, Captian Cass will mark the best beaches to hunt for glass on the maps for sale in the gift shop.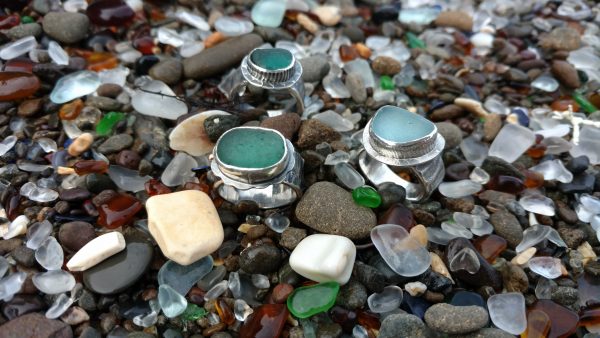 Climbing down to the beach, feeling the crunch of sea glass underfoot and seeing the ground shimmer as the sun comes out, is an out-of-this-world experience.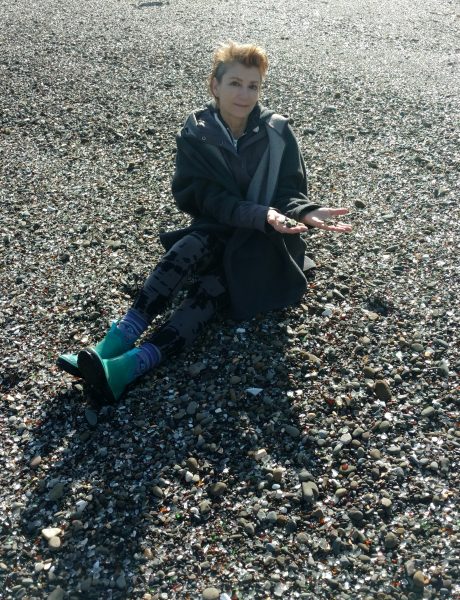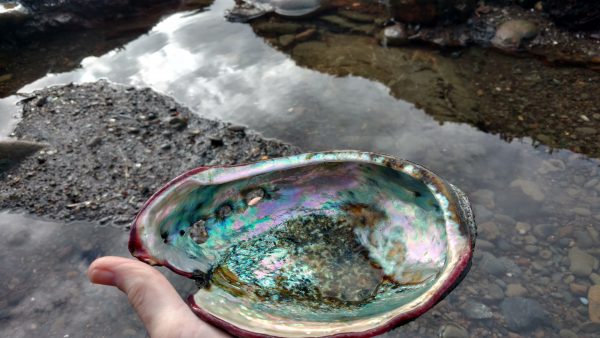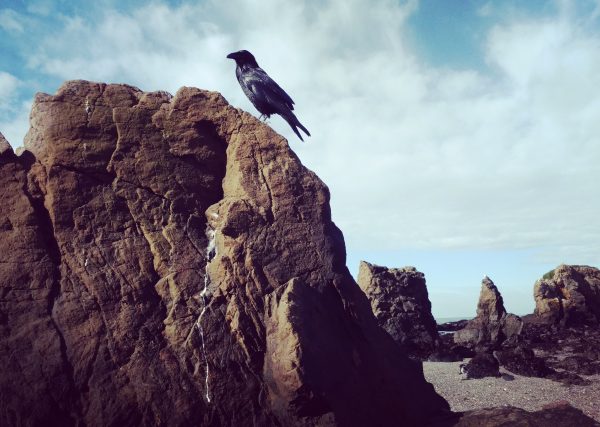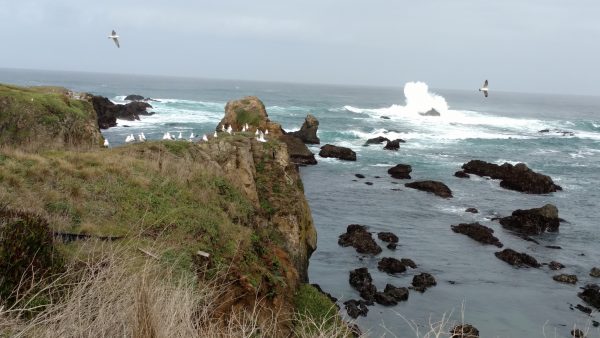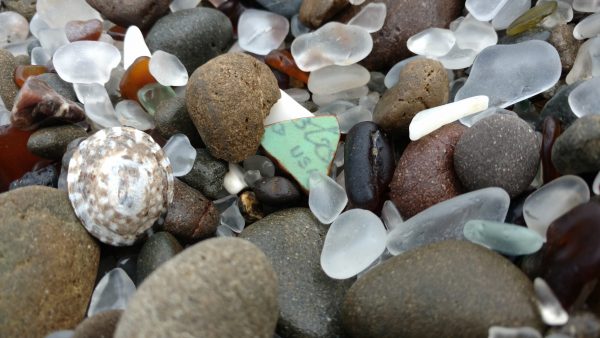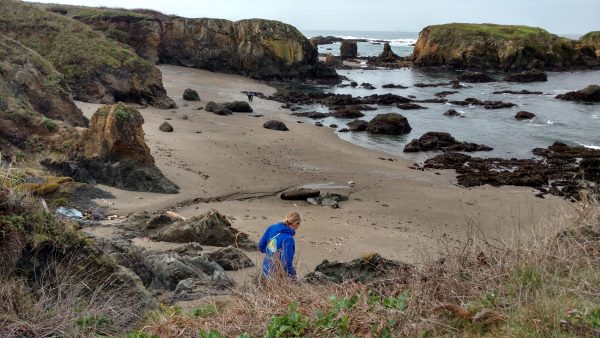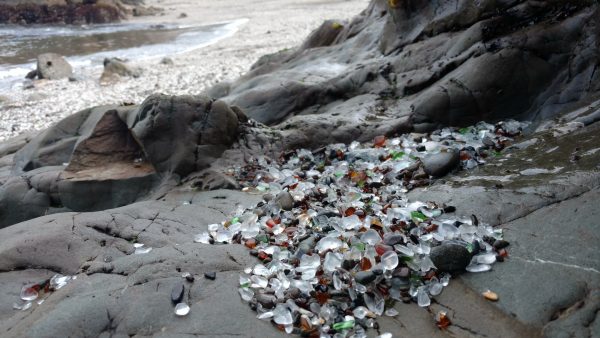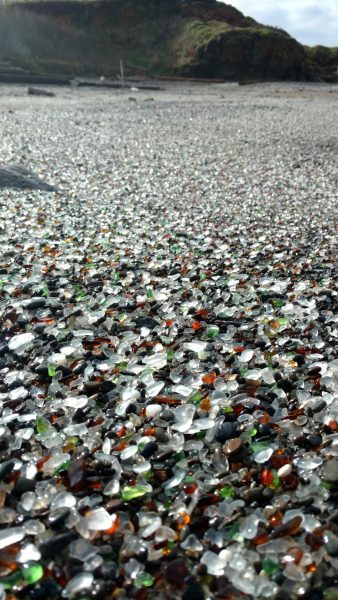 Sunlight intensifies the carpet of glass!
Farewell, Glass Beach
After two days it was time to move on to Cayucos for the SeaGlass Festival, which will be the topic of a future post. And speaking of the future… those attractions that were closed when we passed by? Perhaps just as well, as it gives us another reason to return.