It has been a great summer spent close to home. Enjoying the easy living of warm temperatures, long hours of daylight, visits from friends and family, camp outs and back yard barbeques.
Instead of setting up a booth at outdoor festivals this year, I have been keeping busy developing new designs and working on commissions from old and new customers. Also in early July, I  opened an Etsy storefront too…(Thank you Sophia for your computer and jewelry modeling skills!)
What follows is a look at some recently created custom work… all photos by yours truly unless otherwise credited.
Wedding Rings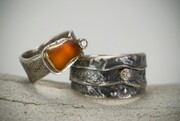 photo by Marcy Merrill
John and Dianne visited my studio last April during our annual Tokeland Art Studio tour. They were planning a late August beach- front wedding on the Oregon coast and were looking for wedding rings that reflected their love of nature-especially the beach. Dianne found her ring that day in my studio-orange sea glass with a diamond. They commissioned a band for John that related to the textures of Dianne's ring adding a diamond that had belonged to Dianne's grandmother.
idea2lifestyle commission: Horse coin cuff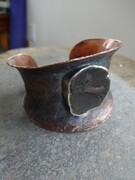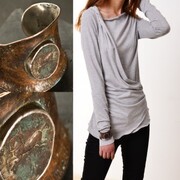 photo by Gerald Chen
Idea2lifestyle is one of my favorite indie clothing designers. Located in Shanghai, they consist of a tightly knit design team, creating free spirited and poetic fashion. I made this copper cuff with an ancient Sicilian horse coin by request for a fashion shoot-you can see more designs  at their Etsy.com shop:
http://www.etsy.com/shop/idea2lifestyle?ref=listing-shop-header-item-count
Jane's Ginger Amulet
This piece is made of Victorian era sea glass, from the NE coast of England. It was commissioned by Jane, (a returning customer) from Olympia, WA.  Especially cool is the secret  "horizon line" in the glass, visible only  when held to the light. The double chain allows it to be worn at two lengths, making it a versatile go-to necklace.
New Mother ring
Ross from NYC commissioned this ring as a gift for his wife, Thanh. She has very recently given birth to a beautiful baby girl. The ring is water like in color and form, with sea glass set in 22KT gold and an ocean blue sapphire.
Moonstone ring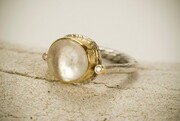 photo by Marcy Merrill
Ann lives by the beach in Westport Washington. She has been collecting moonstones on her daily dog walks for years. Moonstones are pretty rare here-local beachcombers call them "Westport diamonds". In their natural state they are frosty and translucent, resembling a piece of white sea glass. Ann polished her moonstones in a rock tumbler, resulting in transparently clear stones, each one like a droplet of water.
She came to my studio with a small bag of moonstones and we discussed design possibilities for a ring. I loved the serene clarity of the stone she chose for her ring. It seemed destined for an ancient style ring shank. Set in 22KT gold, it is flanked by two small diamonds that twinkle like sun (or moon) on water,
Later, Ann surprised me with an amazing gift-a  cloth pouch filled with tumbled moonstones, the result of about nine years of beach combing. I felt treasured by her generosity. In appreciation I surprised her with this pair  of earrings.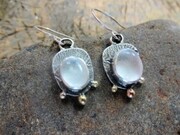 Pegasus ring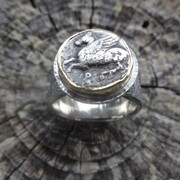 Chris from Vancouver, BC  has loved ancient Greek mythology since childhood, He was interested in having an ancient coin ring made to wear at his twenty fifth high school reunion. I sent him some photos and info about the  ancient Greek coins in my collection. Chris selected a  Late 4th century B.C. silver coin  from Corinth, Greece. The obverse side features the goddess Aphrodite, the reverse side shows the winged horse, Pegasus.

Festus Cuff
Tom from Texas wanted to purchase a cuff from my website for his wife's birthday gift. The piece he was interested in had sold, but I was able to make a bracelet  with the same elements-an etched silver anticlasstic formed cuff with ancient Roman coin of the same type and era as that of the original cuff. Better yet, it was in her size.
Very pleased with the cuff, they placed a custom order for their eleven year old son, Blake. He really liked the warrior ring on my Etsy.com page, and selected a similar coin dating back to Constantine ll. It was made into a pendant showcasing the two Roman soldier guarding the camp gate. I hope this inspires him to continue his interest in ancient history!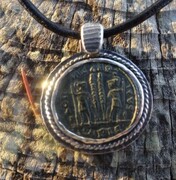 Salt Water Ring
Dan, from So Cal wanted to have a ring made for his girlfriend Tania. They had a one year anniversary coming up and the ring seemed like a great way to commemorate. We decided on a Salt Water ring substiuting the 18kt gold accent for a diamond….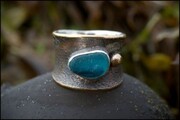 photo by Marcy Merrill
Salt Water Ring classic (above) Salt Water Ring custom (below)
Rings for Christine and Jim
Well, there is still more work on the bench to do, but I am going to end this post with pictures of rings created for two of my favorite customers from North Carolina.
Enjoy the rest of the summer!
 Bonus Shot: Sandra's Ring

Sandra fell in love with this piece of cat's eye green sea glass on my work bench…and the rest, as they say, is history…