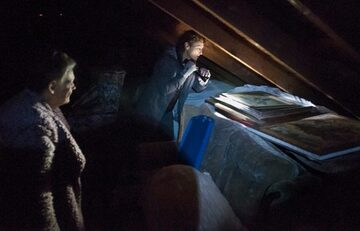 Spring has returned. The Earth is like a child that knows poems. -Rainer Maria Rilke
Last night at sunset, I sat on a driftwood log and listened to a chorus of frogs. I burrowed deep into my jacket, cold but happy for the extra hour of daylight. Below me, the site of last summer's campfires had been swept clean, the logs moved out in winter tides. In the distance, migratory shorebirds flew in undulating clouds over the water. Overhead, geese honked by as they winged north. As I listened to the sounds, I felt like I was coming out of my own hibernation, the first in my newly-emptied nest. Both of my kids are now living away from home-my daughter is in Seattle and my son away at Evergreen State College. It's a transitional time in our parent-child relationships, one that is sometimes difficult to adapt to, but overall rewarding. So now I'm living with two hounds and a lot of art. Immersed in research and writing. And yes, also making jewelry. To those who've read past posts I shared about Native American artist Eugene Landry, there is exciting news to share.
The Eugene Landry project now has its own website, an upcoming exhibition, and a 52-page catalog. Thanks in large part to Washington Humanities, for awarding us a 2019 Storytellers Grant, and to the Shoalwater Bay Tribe for co-sponsoring this project.
Please check out the website, view the catalog, and follow us. It seems like every week there are new developments as this story unfolds.