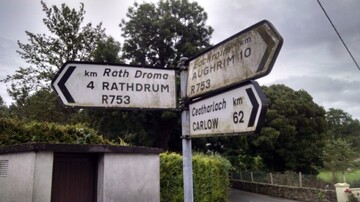 In August I traveled to Ireland to take a class in Celtic chasing with Brian Clarke. He is a world renowned silversmith who in the past has taught classes all over North America. However nowadays if you want to take a class with him it requires a trip to his studio in Ballinaclash, Co Wicklow. He teaches 3 one week classes per year, all in the month of August. I felt very lucky to get one of four spaces in the class. I learned about Brian from my friend and teacher Bill Dawson of Mud Bay, WA who has been to Brian's twice before for classes and study.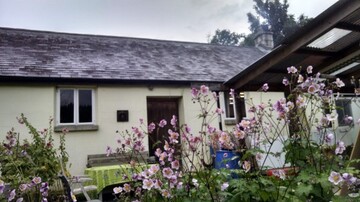 Brian's studio aka The Old School House
I stayed in the nearby village of Rathdrum. A small town with two butcher shops, seven pubs, (not all currently open) a post office, druggist, small grocery store, two bookie shops, two takeaway shops, (one Chinese, the other fish&chips) two B&B's, and two Churches on either end of the main drag. Also a beautiful park.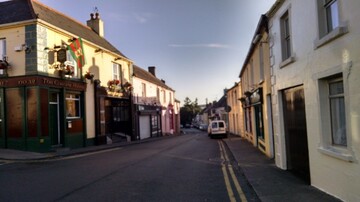 Main Street, Rathdrum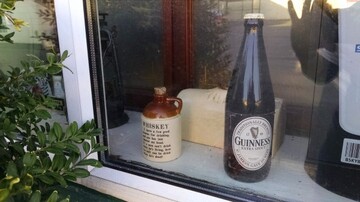 storefront window display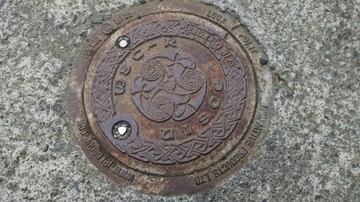 beautiful water main hole covers along the sidewalks!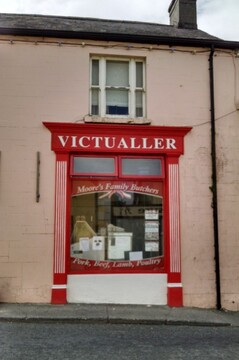 Moores Family Butcher Shop. I suggested they have t shirts printed with their logo for tourists like me to buy-I got a bemused smile in return….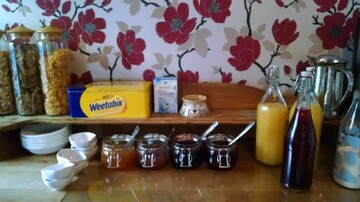 The Stirabout Inn offered a full Irish breakfast, cooked to order by inn proprietor Daphne. She even picked me up at the train station when I arrived from Dublin. A true home away from home!
Meanwhile, back at the schoolhouse:
We were learning top down chasing-an ancient technique using various metal punches and a hammer to create a dimensional design on the surface of metal. The metal (copper) was stuck into a bowl of warm tree pitch. when the pitch cools it holds the metal firmly as it is hammered.
Two examples of top down chasing by Brian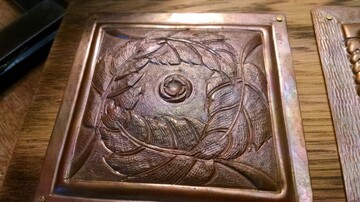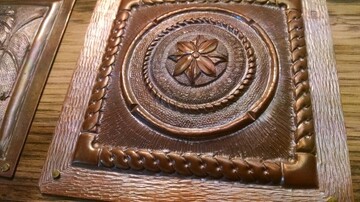 Beginning the first project: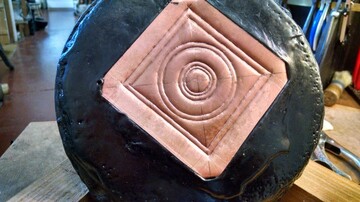 The first project was to chase a concentric circle design in copper. First an outline is chased…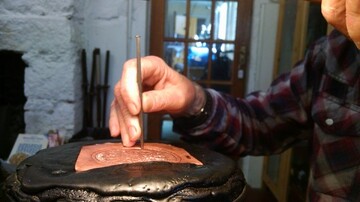 Brian positioning a metal punch onto the copper.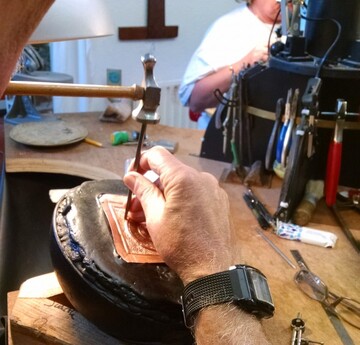 another view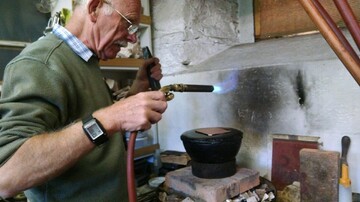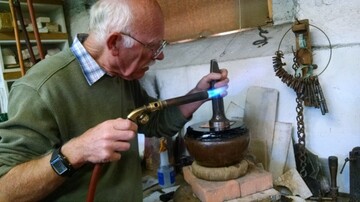 Brian demonstrating heating the pitch (carefully) with a torch until soft, then embedding copper into it. He is using a cold metal tool to apply pressure so no air pockets form beneath the copper( the pitch doesn't want to stick to cold metal.) The heated pitch has a wonderful pine smell!
We worked steadily, the sound of metal tapping forming a hypnotic rhythm, silenced only for occasional breaks for biscuits and tea or coffee. The breaks gave our fingers a chance to rest-this is pretty intense stuff. (Pushing through the hours was a good thing-my left thumb went from soreness to numbness after a day or two.) Everyday around 1:00 the class stopped for a lunch at Brian's house. His beautiful wife Yvonne prepared delicious meals and joined us at the table for some great conversations.
Back to the studio: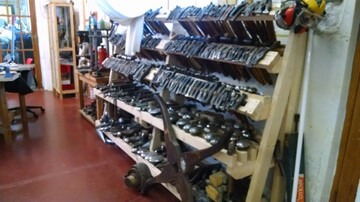 Brian's wall of hammers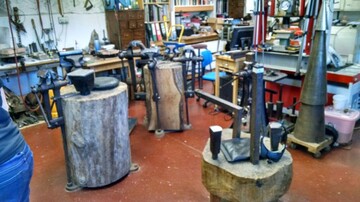 tree stump work stations (not for our class)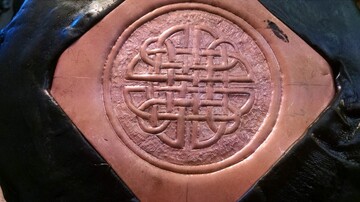 My third project, a Celtic knot, in progress measures about 4×4 inches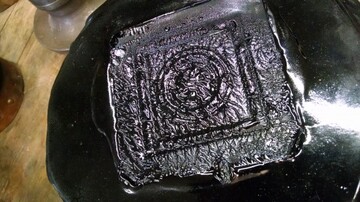 To remove the piece, the pitch is heated up again and metal is lifted out. Sometimes a cool design imprint is left in the pitch, like this one…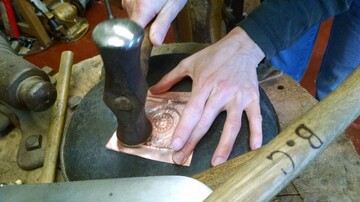 The metal is carefully flattened on a sandbag to even out the edges. It can be remounted into the pitch for further refinement or reshaped, patined, or polished as a finished piece.
The "commute"to Rathdrum:
I took this snap from the passenger seat of my classmate's Porsche-funny to be passing a horse and wagon on the highway!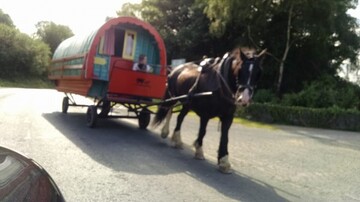 Other nearby sightings:
Roadside shrine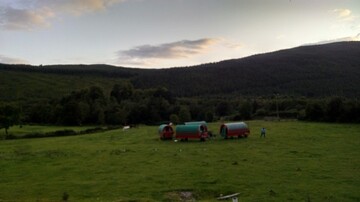 The nearby Wicklow Mountains were once home and hideout to Ireland's rebel fighters: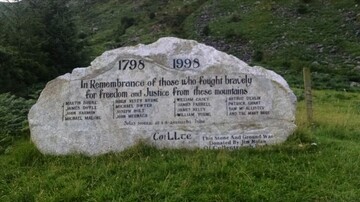 I was taken to the mountains after class one night by Liz and Trevor, friends of friends back home. They pointed out some of the sights along the way as the sun was setting. We had a delicious dinner at the historic Glenmalure Lodge. One of the best sights there was a ninety-year-old retired sheep farmer named Jim, playing cards with a table of ladies. They used matchsticks to keep score. Apparently, he comes there every night!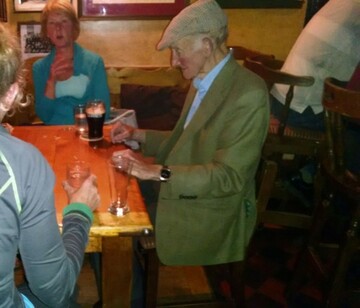 Back to the Schoolhouse: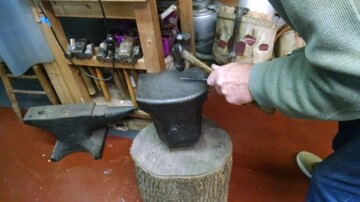 Brian gave a toolmaking demo, using old tool steel an (allyn wrench) to make a liner punch…
Two different types of punches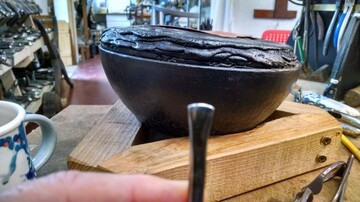 Punches are used to create lines or texture. Brian said he could get by with seven different punches, however, his studio has thousands of them!
Some of our finished projects after five days of class: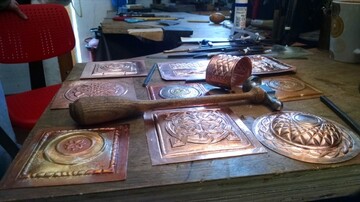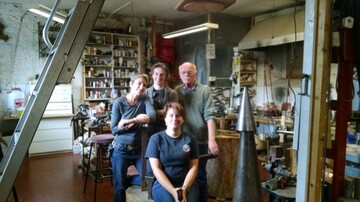 Fellow classmates (minus one) and teacher…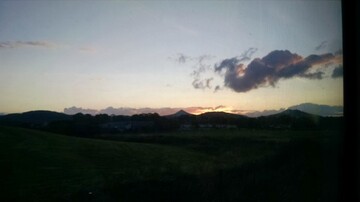 As I rode the train back to Dublin Friday night, I knew the trip had been worth it in so many ways. Since returning home I have been putting the lessons learned into practice.
Here is a recent piece, chased in silver: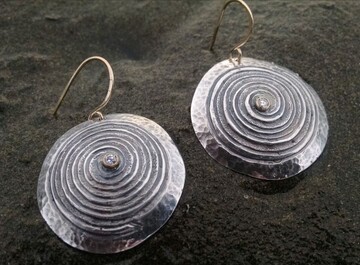 A few pictures from Dublin before we part: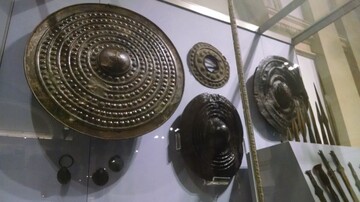 National Museum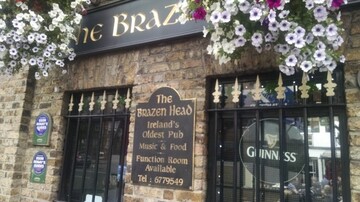 The Brazen Head-Ireland's oldest pub-it came highly recommended and did not disappoint!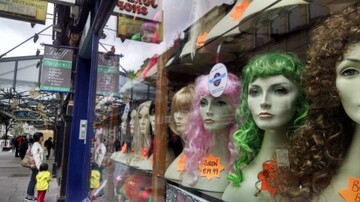 People watching…
Temple Bar district on a bank holiday weekend- it is rather quiet during the daytime hours.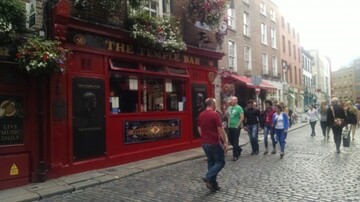 Until next time-Cheers!