(This is a continuing series about Shoalwater Bay artist Eugene Landry. To see the first post click here.)
Last week I visited two of Tokeland's finest artists, Wally and Marlene Mann, at their studio on Willapa Bay. They were busy getting ready for Tokeland's annual art tour.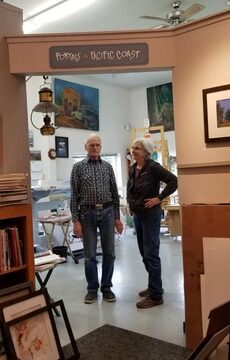 The Mann studio is a large airy space, made cozy on a rainy coastal morning by a fire crackling in the wood stove. The walls are covered with art and tools of the artist's trade spill onto every surface. I sipped a cup of green tea and looked at Wally's work in progress, a pastel of an old bakery in Nahcotta. Wally's subject matter includes scenic old landmarks, some of them long gone now, like the old Coast Guard boathouse on Toke Point. Learning that Wally had lived in Tokeland as a young man, I asked if he'd known Gene Landry. The answer was yes.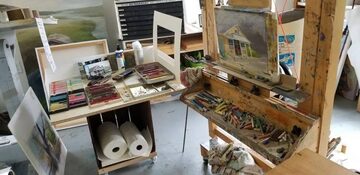 Back in Time
Wally moved from Tacoma to Tokeland in 1958, when his parents bought a small grocery store that sold everything from candy to fishing supplies and also housed the post office. Wally and Gene were the same age, about twenty years old, when they met. Both had an interest in art. Wally had studied at the Ringling School of Art in Sarasota, Florida after graduating from high school in 1955. Gene loved to draw and showed artistic promise as a high school student.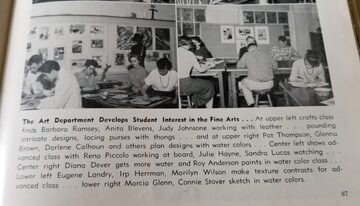 Wally recalled going to Bainbridge Island with Gene's adoptive parents, Fred and Myrtle Landry to visit him in a care facility, in about 1958. Most likely Gene was there to receive physical therapy. He had been confined to a wheelchair after contracting spinal meningitis when he was a senior in high school. Wally remembered seeing Gene there with crutches and leg braces.
Less than a year after his visit with Gene, Wally moved to Seattle and enrolled at the Burnley School of Professional Art. Rated one of the best art schools in the nation (Seattle Times, Jan 16, 1959) Burnley offered fine and commercial art instruction. One day after class, Wally rode the ferry to Bainbridge Island and paid Gene a visit. Could this be how Gene got the idea to attend Burnley?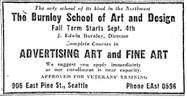 The Burnley School of Professional Art
Founded in 1946 by Edwin Burnley and his wife, Elfie, the school emphasized the fundamentals of art. The philosophy was "one can't become a good commercial artist without also becoming a fine artist." Students attended six hours a day, five days a week, receiving instruction from some of the best-known artists in Seattle, including some members of the Northwest Group.
The school was located in an old building on Pine and Broadway that had been the original home of Cornish College of the Arts. In 1982 the school was sold and renamed the Seattle Art Institute.
By the early 1960s, Gene's family moved to Seattle and his father got a job at Boeing. Gene most likely started classes at Burnley in 1961. His cousin, Kenneth Baker remembered carrying Gene up a flight of stairs to reach the second-floor classroom as there was no elevator. Another student carried Gene's chair.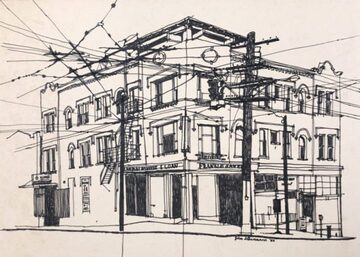 Art School Confidential
Wally Mann was a student at Burnley in 1959. I asked him about that experience.
"They had some very good instructors, folks that were pretty well known around town then. It wasn't a real easy place. The instructors pressed you pretty good. I remember one gent was a design instructor. He'd come in once a week and critique our work. We'd line it up against the wall and then he'd walk along and make you uncomfortable." he chuckled. "He was pretty strict with what he did. There was another guy who ran the life drawing class. William Cumming. He went on to be pretty prominent in Seattle art."
Cumming, dubbed "The Wayward One", was a teacher at Burnley when Gene was a student there, and undoubtedly an influence.
In a guest column for the Seattle Times (October 10, 1965) titled Art Schools need Fundamentals, Cumming chastised the Seattle School district's high school art curriculum for not teaching fundamental skills adding that "creativity cannot be taught".
"Underlying all the disciplines is the simple fact that art is a special way of seeing which involves much more than looking."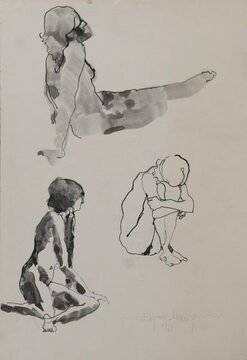 "It is through years of constant seeing like this that the artist develops a unique manner which the world sees as his style."– William Cumming
To be continued