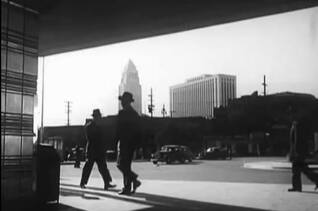 The Crooked Way 1947
"Los Angeles, California. I was working the day watch out of Homicide…"
Recently I was in the City of Angels for a ten day visit. It was timed to coincide with the annual LA Vintage Pulp and Paperback Show and the Noir City film festival in Hollywood. My brother Joey and his gal Amy Jo were my hosts for two fun filled, action packed weekends. Better than a trip to Disneyland was walking the streets of downtown LA…finding both well known and more obscure locations for the films and  television shows we grew up watching in the pre-cable days in Southern California (when there were six television channels to choose from!
Other highlights from the trip include an art show in Chinatown, vintage shopping in old town Burbank, exploring the neighborhood of Silverlake, walks along the Los Angeles River Trail and visits to Olvera Street and Little Tokyo.
Oh yes, and waking up my first morning in Los Angeles to a 4.3 earthquake….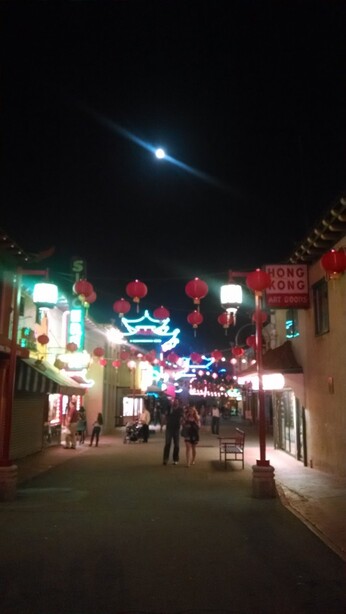 Chinatown with full moon over head- perfect night for an art walk!
I was lucky to be in town for the opening of A Better Home For Quiet Wolf-a solo show by MatJames Metson. His assemblages are mysterious and haunting. Turn of the century portraiture is combined with obsessively worked elements like numbers, old letters, seeds and nails, wrapped objects and much more. I found it disturbing in a pleasant way-like visiting the Winchester House… The show is hosted by  Coagula Curatorial and runs through April 12th.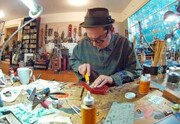 Studio shot of MatJames at work (and wearing one of my rings!)
Doug Harvey had an exhibit of found moldy slides with a soundtrack at the Jancar Gallery. The slides were found in the trash of the Edendale Hoarder. Some had molded or scratched, most dated from the 1970s. (Click on the link to read the detailed story of his amazing horder find and what he did with it!)
The next day, Joey and I headed out to Glendale for the Vintage Pulp and Paperback show…
There were paperbacks of every description and value, from one dollar copies of Rosemary's Baby and The Godfather to plastic-encased rarities from the early days of paperback publishing.
There was sheet music, stacks of Confidential Magazines, and even a rare Dragnet Script from the 1950's radio show…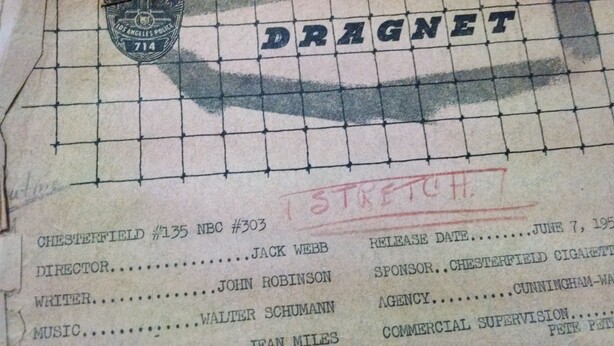 One of our favorite vendors, Terry, claimed he had a tie that belonged to Jack Webb. It was in his van out in the parking lot. He promised to try and find it when he had a break. Joey and I waited around for a long time but never did get to see it…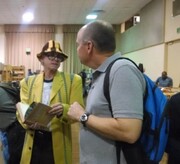 Terry (in the hat) helping a customer
We did however purchase quite a few treasures from him and others…
Other highlights from my trip:
Los Angeles River Walk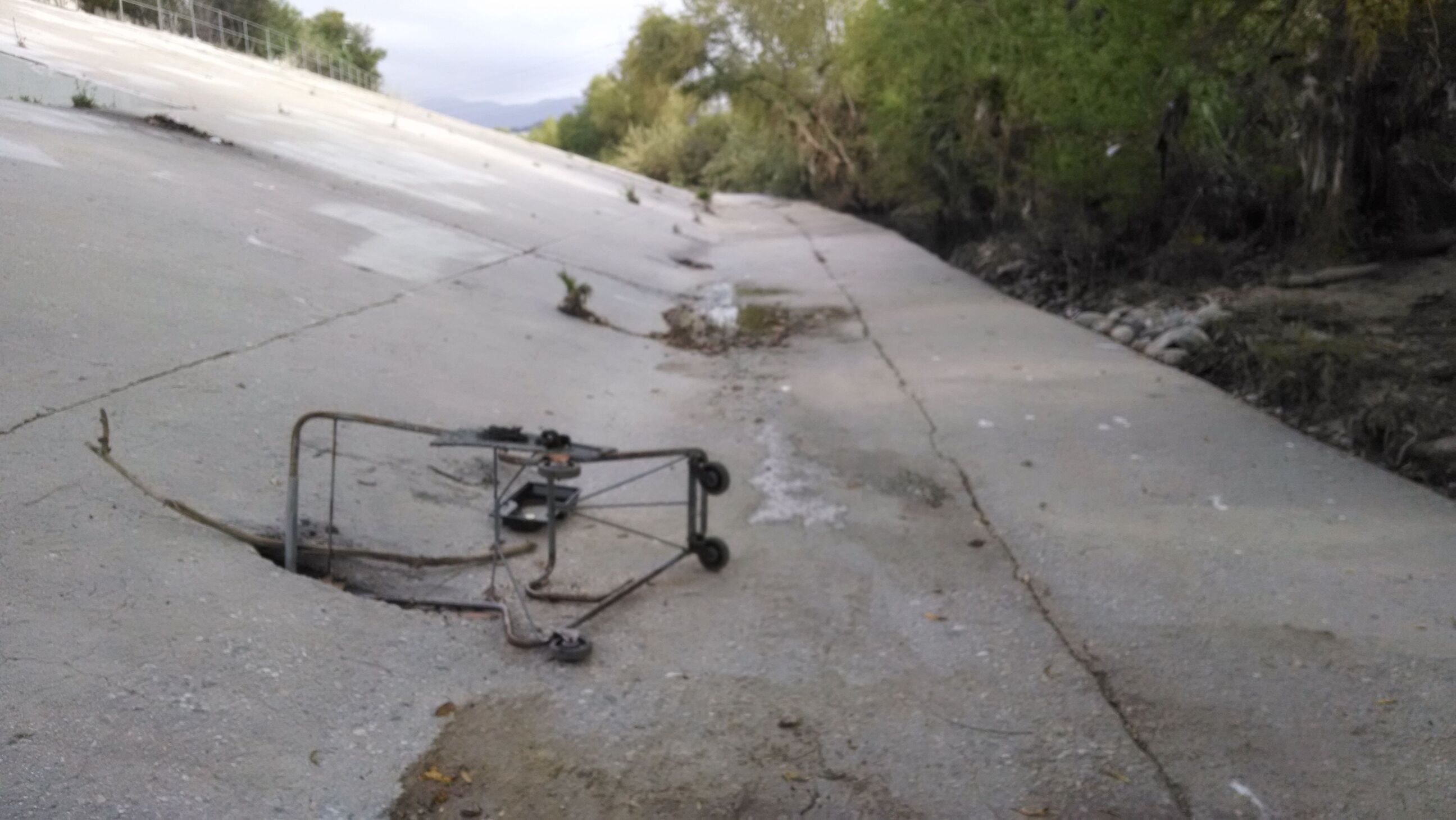 The Los Angeles River flows 51 miles through the nation's second-largest urban region. The Los Angeles River Trail helps to tell the story of the founding of Los Angeles.  Due to flooding in the 1930's the river bed was channelized in concrete making it a perfect film locale for car chases and a home to giant post- nuclear ants in THEM! It is a sanctuary for birds and wildlife, also habitat to many abandoned shopping carts…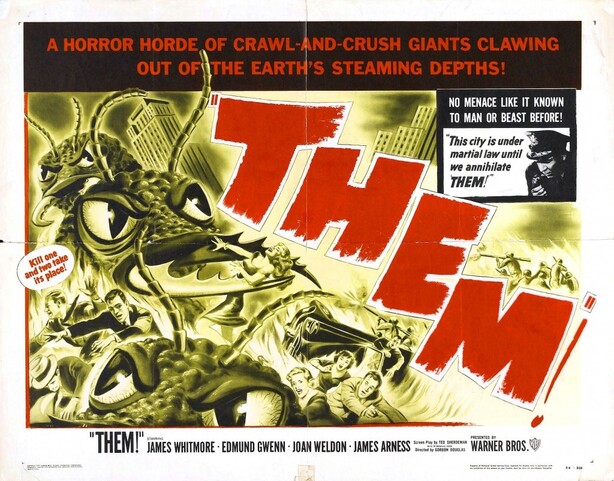 And then there's downtown: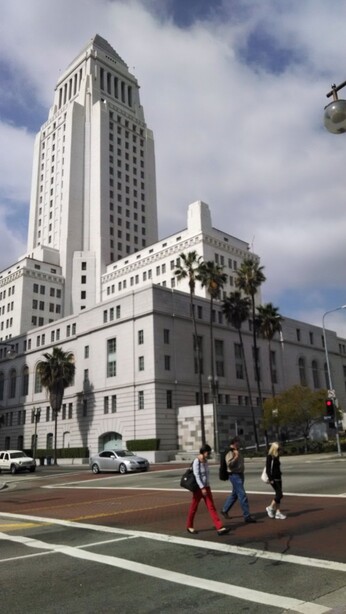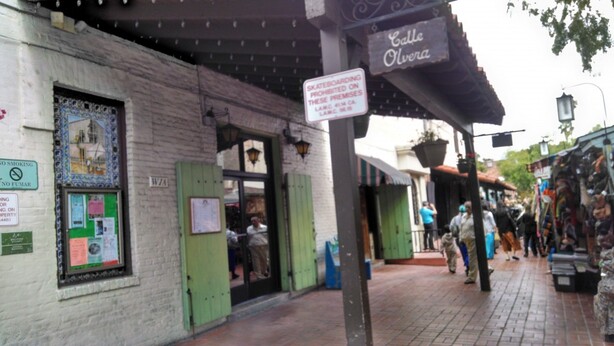 Olvera Street…Suddenly I had to find the perfect pair of Hurraches, and brother Joey was along for the ride…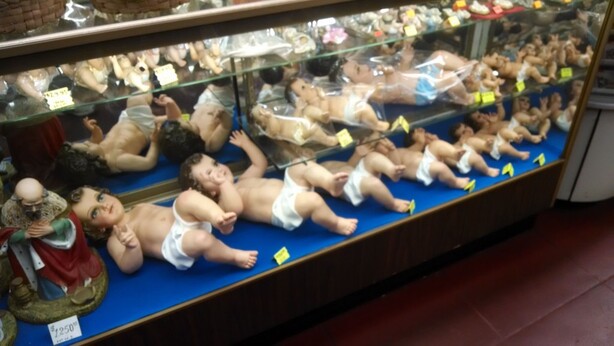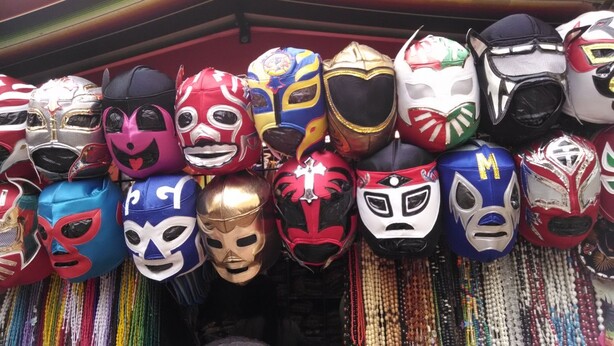 I did find my Hurraches with the tire tread soles and after a quick taco we were off to Little Tokyo.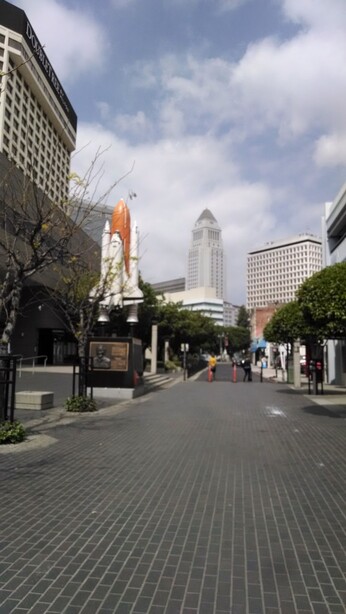 After a quick gyoza we were off to beautiful downtown Burbank…

Shopping in the many vintage shops was a great way to pass an afternoon. There is a store called "It's A Wrap" that sells wardrobe clothing from film and television shows, many have never been worn. They are arranged on racks with the film or TV show listed-Breaking Bad had many non descript looking button down long sleeve mens shirts-just Walter White's style.
We found a bundle of cocktail swizzle sticks circa 1960's. As children we fawned over these plastic sparkly canes with miniature whistles from our father's cocktail accoutrements… Joey paid $35.00 for set of these in NYC-and it was missing one of the colors… We bought this bundle for five dollars-SCORE!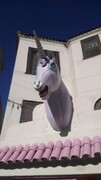 Unicorns Happen-Sunset blvd in Echo Park
My last night in town, we had planned to attend the opening of Noir City at the Egyptian theater in Hollywood. A fully restored version of Too Late For Tears was the feature, with a special salute to Dan Duryea. Who would have guessed that all tickets were sold out days in advance? We were just too late for tears…
Plucky souls that we are, we still went to Hollywood….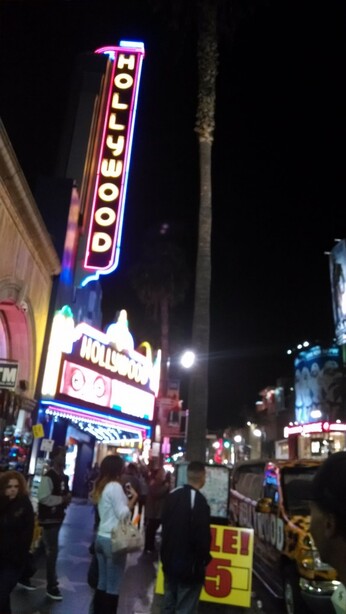 Hollywood Boulevard with Joey and Amy…Graumans Chinese and Ginger Rogers footprints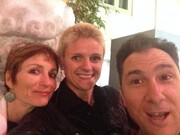 #selfieswithmybesties @ Grauman's Chinese-Hurray for Hollywood~
Back home now and making the adjustment from ninety degree temps to the breezy and wet Pacific Northwest. Enjoying the beauty of our local beaches again, but missing the shopping carts…
Till next time-Adios!