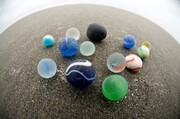 Photo by Marcy Merrill
Sea marbles are rare treasures found on the NE coast of England and Scotland. They may also be found in Hawaii, but the real mecca for these beauties are beaches in the UK. They are referred to by the natives there as Codds, in honor of Hiram Codd, an inventor who in the late 1800's developed a bottle which utilized a marble to keep carbonated beverages fizzy.
The marble was sealed inside the bottle, floating to the top to form a seal that kept the bubbles from escaping. The marbles could only be released by breaking the bottle.
There is something about a marble that conjures up the magic of childhood-and when they have been tumbled in the sea for one hundred years or so, and have a frosty luminessence -even better!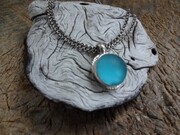 sea marble necklace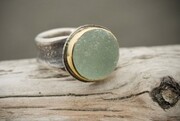 Sea Salt Ring-frosted light green marble
I have been saving one marble in particular for a while-it was just too beautiful to "let go" of. A two- tone blue swirl, that looked like a wave and/or a yin yang symbol. I decided to use it in a ring and as I worked on it, in my imagination was the sound of waves crashing on the beach and the cry of sea gulls… the smell of salty air mixed with sun tan oil.
I envisioned a surfer girl wearing it as she rode the waves.
Last weekend, I posted a picture of the ring on my facebook jewelry page. I had just bought a new camera and was excited to show what a difference a good macro feature can make with close up shots.
It was seen by a beautiful surfer girl by the name of Eve-who happened to be at Westport's Annual Clean Water Surf Challenge. That afternoon, she came to my studio and tried it on. It was a perfect fit. Meant to be.
I am so happy to think of this bitchen ring finding the perfect person to wear it!
Cowabunga, Doll!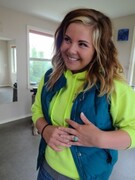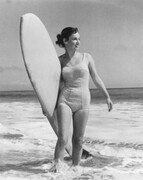 The original surfin doll,Kathy Kohner aka: Gidget