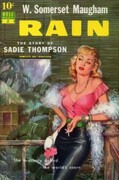 Compared to the rest of the USA or other countries, our winter weather has been mild and easy. But there has been an unduly amount of rain, even for us..fortunately my favorite escape from endless grey is to lose myself in the studio. It's better than a trip to Hawaii-even though I am sure Sadie Thompson might disagree with me on that!
There have been some bright spots to start the new year. Jeffro made an incredible display bench for my studio. He salvaged the maple top from the beach in front of my house. The support pieces are from a ship wreck on nearby Washaway Beach.
I can't even express how much I love it-made by a good friend and truly one of a kind.
Another friend, photo journalist Erika Langley, stopped by the weekend this bench was delivered. It also happened to be Super bowl Sunday. In Washington state this was a HUGE deal. (BTW: The Seattle Seahawks won.) Erika and I took advantage of the completely empty beach-not even any footprints in the sand- to take some artist shots.
photos by Erika Langley
Without realizing it, she took a series of shots that formed a narrative of place- the source of artist inspiration, the artist at work and finished jewelry pieces.
Since I dislike having my picture taken, (unless there is wine and a fedora involved) I was trying to relax and forget about the camera. Erika made that easy. I have recently had another birthday and am now in my mid fifties. Okay I said it! Recently I have been giving thought to the aging process. There have not been a lot of widely publicized role models or mentors for women until recently for this time in life. I have decided to embrace it. Be nicer to myself. Enjoy  the little and the big things. Ditch the rules. Dream big.
On that note, I now must share a few pictures of my pet project. The restoration of my 1971 Volkswagen Karmann Ghia.
I bought this car four years ago from a local fisherman. It was barely running and pretty much in shreds. My ex husband, Tom, got it into running order and did a lot of interior restoration. After saving up money and a  search to find the right body and paint man, the project started in January 2014. With any luck at all it should be drive- able by June.

This is the color it is going to be-it's called Seaside. The job is being done by Three Crows Garage in nearby Westport, WA.
Back to the studio…
Here are some action shots from our Superbowl Sunday Shoot:
And a piece of finished work. These are wedding rings for  Rachel and Nick of Portland Oregon. They will be getting married on the summer solstice 2014. Their rings feature Victorian era sea glass from the coast of England set in 22KT gold with reticulated silver bands.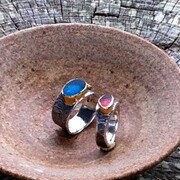 photo by Erika Langley
And now for some shots of recent pieces:
All of these feature English sea glass. Did I mention that I have recently renewed my passport? I am hoping to take a trip to the NE coast of England in later summer to visit the beaches where this sea glass is found. One of the people I buy it from has very kindly invited me to visit her and her family. (and also the working man's club!) I am a firm believer in planting seeds for whatever you want to manifest. So taking the action to get the passport renewed was step one.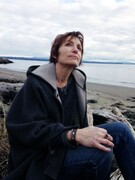 photo by Erika Langley   http://www.erikalangley.com/
Hope this scattered sharing of some of the past month's highlights has been of interest and not too rambling…Until next time, I remind you that even though it is still winter for another six weeks or so, it's time to plant the seeds for whatever you want to manifest your life.
In the immortal ad copy of Fredericks of Hollywood (and the Rocky Horror Picture Show):
"Don't dream it-be it."